Paul Rush discovers a vast sunbaked land waiting to be explored, with people to meet and tales to hear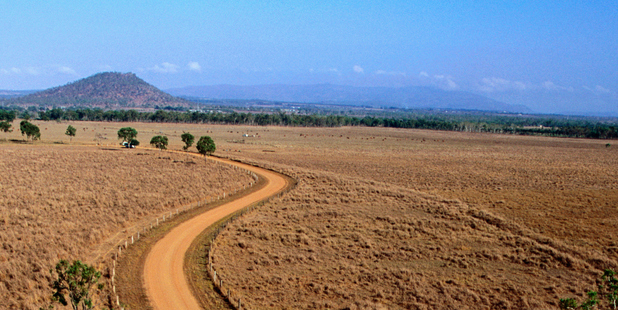 Drive inland from Brisbane, Rockhampton or Townsville and you will cross the Great Dividing Range and discover a vast sun-baked land. It's called the Outback and it's full of surprises.
Out here, far beyond "The Black Stump", you feel an indescribable sense of freedom and boundless space. Where towns are widely separated and the locals develop close bonds.
The incredible colour of the landscape grabs your attention. The iron oxide terrain is dotted with rust-red escarpments called "jump-ups" that are a visual delight. The vast gibber plains of gidgee trees and coolabahs are softened by gentle billabongs and rock holes, shaded by white ghost gums.
You'll know when you reach the true Outback. You'll feel its pull when you sit around a campfire at night listening to bush ballads and yarns from genuine raconteurs, while enjoying billy tea and bushie's damper. Beyond the glare of the campfire there is perfect stillness. The vivid orangey red sunset has a rapid onset, followed by a brilliant display of needle-sharp stars in the vast vault of the night sky.
Having experienced this you'll want to engage the Outback at all levels; the Aboriginal Dreamtime stories, the explorers, pastoralists, miners, drovers, poets, novelists and artists. The fascinating wildlife will thrill you; the flurry of pink galahs, raucous cockatoos and corellas, the curious crocodiles and cute kangaroos.
Australia's pioneering stories and legends were born in the Outback and I've met many colourful characters on my travels. I once sat on a sun-drenched porch with old-time Cloncurry drover, Merv and asked if he'd ever been out to the coast.
He drew hard on his skinny roll-your-own and replied, "I've lived in the bush all me life and went to Melbourne once and I was amazed. I never knew there were so many people in the world." I replied "There's six-and-a-half billion now." He shot back in a flash "Well, they must've all been in Melbourne that day."
In Winton, colourful Arno "The Collector" has squirrelled away a yardful of junk for years and built a bizarre 2m concrete wall. It contains complete motor bikes, lawnmowers and everything else including the kitchen sink.
Ray, a retired bushman in Windorah, tells stories of stations that needed 200 horses for farm work. At 20 he was responsible for droving 1000 cattle from Windorah to the Darling Downs.
Ray tells me, "One day I rode 100 miles searching for a bloke lost in the scrub after riding his horse into the ground.
"He tied an SOS note to its mane and sent it home. The horse returned to its paddock and no one saw the note. The poor fellow died."
On a sunset river cruise at Longreach I met tour hostess Trish, who likes to put guests in the mood by playing the theme from Titanic as they board.
Trish tells stories of the giant Barcoo Grunter and ferocious catfish on the river and points out the "Dead Dog" coolibah tree that has lost its bark. Later she demonstrates greenhide whip cracking, wiggling her ample hips like a genuine Jillaroo and rounds off the evening with bush poetry of the "earthy" variety that is uniquely Australian.
In Normanton, I met a raft of true-blue "Bushies" in the pub. These are tough troopers of the north, wearing battered Akubra hats, Ned Kelly beards and wrinkled faces that had weathered for a million years like the Outback.
I did the decent thing by offering them a "coldie" on a stinking hot day in the finest Aussie tradition. Each pint disappeared in one big gulp and a deep, voice said, "I reckon that one hardly touched the sides mate, can ya set 'em up again?"
Why not bypass the Gold Coast on your next Aussie holiday and visit the Outback? There's nowhere quite like it. The spell of the bush, the land and the people will linger long in your memory.