On the Larapinta trail, in Australia's vast nothingness, Greg Dixon walks... and walks... and discovers the landscape is not the empty canvas it first appears.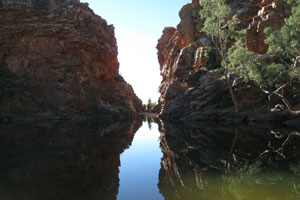 The very edge of the earth seemed on fire. Above a blank, black landscape and below a gently bluing night sky, the horizon burned, moving slowly from raw sienna to orange blush.
In the fading dark, we sat quietly among the rocks and ubiquitous spinifex grass, my fellow walkers and I, sipping cups of tea brewed by gas ring and torch light.
Dawn was near, and soon the sun would light an ancient landscape.
It was cold there, atop Mt Sonder, the primordial pile that dominates the western end of central Australia's most famous walking track, the Larapinta Trail. A chilly, but thankfully, gentle breeze moved among the rocks and turned the ends of noses cold. The sweat from the long hike to this spot had quickly vanished and I was glad of my four layers of clothing, my silly beanie and the offer of extra chocolate from our party's guides.
To get here, we not-so-hardy walkers had risen at 2.30 in the morning from our swags in a bush camp at Redbank Gorge, hidden in the darkness far below.
We'd washed cold hands in freezing water and then slapped them together to warm them. We'd scoffed a quick breakfast of cold cereal, milk and yoghurt washed down with hot tea. We'd filled our daypacks with water and treats and then, in high, slightly nervous spirits, clambered aboard the World Expedition's Coaster mini bus at 3.15 sharp for the short drive to the start of the Mt Sonder track.
We knew what the cold and the dark were hiding. For a couple of days now, we - me and 14 lively, middle-aged Aussies - had had glimpses of it lying, like some sleeping three-humped camel, on the horizon. The day before, as we made for the last camp of our Larapinta trip, we had gotten so close to Sonder we could see why the local Aboriginal people, the Western Arrente, have always called it "the pregnant lady".
In the early hours of the following morning, we played follow-the-leader up the side of this reclined ancient female before moving along her legs, on to her distended belly and finally toward her head. Like a glowing caterpillar, we'd walked for close on four hours in single file with our headlamps tipped down so they just lit the rocky track that never seemed to stop going up.
For New Zealanders who have messed about in the mountains on the Mainland, Sonder's head - a touch under 1400m above sea level - isn't much more than you'd expect from a saddle climb, though it is among the Northern Territory's highest peaks. But in the dark, the 710m ascent to Sonder's top was a strange, almost incorporeal experience, a ghostly walk through an epic eternal silence above a vast, sleeping terrain.
The wait for dawn was a wait to see this concealed landscape come alive.
The red Centre, the Australians call it. But in the imagination it is more like the Big Nowhere, a flat, lifeless red thing that is closer to Mars than the third rock from the Sun.
Certainly on the flight to Alice Springs you can, from a window seat, see this country really does have true Nowheres and Nothings. The immense, red wilderness of the Simpson Desert looks a hell of a place.
But in the country near Alice, though it too is an arid landscape, there is very much more than nothing. The MacDonnell Ranges run east and west of the town forming a land of long spine-like ridges, craggy gorges, an intricate network of dry rivers, utterly beautiful but totally freezing waterholes, and plains and valleys dominated by acacias, spinifex and desert grasses. The fauna - from dingos to whistling kites to black-footed rocky wallabies - is equally diverse, though, because much of it is nocturnal, it is mainly unseen during the blazing daylight.
The Larapinta Trail, which runs west of Alice through the West MacDonnell National Park, is a 223km artery flowing right through the heart of this brutal but beautiful landscape.
Conceived in 1980s, the trail was begun in 1990 and was expected to take a couple of years to complete using, in a quaint Australian tradition, convict labour. But in the way of things, the final of its 12 stages wasn't finished until 2002.
The Larapinta is a rather clever conception. Running close to two big highways - Larapinta and Namatjira Drives - it is highly accessible by vehicle. It may, of course, be walked from end to end (starting or finishing in Alice), a journey which takes up to 20 days and requires freedom trampers to organise food drops at lock-ups along the way (there are also water tanks dotted along the track).
But unlike many major tracks in New Zealand, the Larapinta may be enjoyed piecemeal too, either by day walks based out of Alice, for those wanting civilisation in the evening, or in a series of day treks based from a camp or camps at sites near the trail.
The latter option - which is a mid-way between the extremes of hardcore tramper and sweaty townie daytripper - is offered by World Expeditions, a worldwide wilderness adventure company which pioneered guided trekking on the Larapinta in the mid-1990s. It operates seven-day trekking-camping trips for groups of four to 16 during the Northern Territory's so-called cooler winter months.
What with the 4WD vehicles, the camping kit and the extremely knowledgeable native guides, World Expedition's Larapinta has something of WWII's Long Range Desert Group about it: one sets up camp in the back of beyond, spends the day reconnoitring even further in the back of beyond then returns to base for the night.
Over the course of seven days we would make three camps; there are permanent, designated camping areas (mostly with long-drop facilities) administered by the national park that are not far off the highways. Then, at a civilised hour each morning (after head guide Stef had patched up the blistered), we walked straight from camp or took a short drive to a track head before spending as much as eight hours or as little as a morning hiking and sightseeing.
Each afternoon, our three hardworking guides-cum-guardians, would return us to our swags, make us tea and lay out an extensive antipasto (if you want a glass of wine with it, alcohol is BYO). They'd cook gut-busting kai for us; one dinner featured a Thai chicken stir-fry followed by a berry sponge and yoghurt cake, another night it was lamb shanks. Then the hardest working people in the Territory would join us in hearty, relaxing talks around the small campfire before nights spent sleeping in swags - that curious, uniquely Australian (but very comfortable) canvas bedroll - with the dazzling stars and brilliant moon above us.
The northern Territory is a place of permanent summer, whatever the locals might say. The temperature certainly drops below 5 degrees at night during the winter, but it can be a furnace from late morning. It is rare in a New Zealand summer to walk in temperatures around or above 30 degrees in a landscape that offers no place at all to fill empty water bottles. In the arid Red Centre, this is just another winter's day.
Still I was doubtful I'd need the three litres of water my backpack's bladder holds as we set out on our first day's walk. But on the 18km hike from the Geoff Moss Bridge, a few kilometres outside Alice, along the thrusting, cracked spine of Euro Ridge, with its sheer drops, to Simpson's Gap, I sipped and sipped and sipped it nearly all away as the afternoon's fierce heat and the dust kicked up by our boots took their toll.
Our week was one of highs and lows, of climbing to elevated views from ridges before descending to the plains in between them. There were geological wonders, grand hidden cliffs, tiny lizards, smaller wild flowers and, almost unbelievably in this bone-dry land, dark, cool pools of water in the shadowed rifts where the snaking ranges met but didn't quite touch.
Our Day 3 was typical. It took us - after a short Coaster ride to the track head - from Serpentine Gorge up a steep, thankfully switched-back track, on to the main crest of the Heavitree Range. The views were of the breathtaking variety, particularly from the short side track to Counts Point, which revealed a narrow gutter valley between two ridges - and gave us our first real view of Sonder, as well as the Territory's highest peak, Mt Zeil.
In a region dominated by thrusting quartzite ranges formed millions of years ago, the geology is a long story that can be read in the rocks. Atop the Heavitree, well over 1000m above sea level and about as far from the oceans as it is possible to be in Australia, we found flat rocks with raised ripples running across their surfaces, marks made when these rocks were at the sandy bottom of an inland sea as much as 1600 millions of years ago.
At Standley Chasm, where dolomite rock (cooled magma) pushes through the Chewings Range's quartzite, we squeezed through rock holes formed by a river that no longer runs. And at the Ochre Pits, some 50km further west, where we walked two days later, we marvelled at the soft red, yellow and white earth pigments swirling across a quarry wall used for thousands of years by this country's first people.
There were spectacular waterholes. At Simpson Gap, where we spotted timid black-footed rock wallabies feeding among boulders, the water was so still it was as a mirror to the vaulting cliffs. At the Ellery Creek Big Hole, where the water might have been 10 degrees, a few of the party - the hardier, it should be said - bathed after a long day walking, but only for seconds.
They weren't the only locals to test the water. On the last day, after a loop walk into the Ormiston Gorge brought us to series of small pools of cool, green water left from rains more than six months before, we turned the last bend before home to find a wild dingo fishing at our last waterhole on the Larapinta.
The sun's orange met the West MacDonnell's red soon after 7.15 and the pre-dawn fire was extinguished.
Ahead of us was a three-hour walk in a fiery heat back to camp. But all about us lay the landscape revealed - the panorama was where we'd spent a week exploring. And there was more. To the east, unseen, lay Alice Springs, hidden by 150km of plains and ranges. To the southwest, we could just make out Gosses Bluff, a circular rise and huge hole formed by the impact of an asteroid during the Cretaceous period. To the south, rock cliffs were brushed with bright, brick-red paint by the sun, while to the west Mt Sonder's head threw a huge dark pyramid-shaped shadow across the terrain.
It might have been any time since the dawn of time, but what it most certainly was, was time to go. I finished my tea and slung my pack. We were off.
CHECKLIST
How to get there: Air New Zealand flies every day to Sydney and Qantas offers daily flights between Sydney and Alice Springs.
Where to stay:
What to do: World Expeditions offers the Larapinta Trek, a seven-day trekking, six-night camping package, as well as the 14-day end-to-end journeys and the three-day Larapinta Experience trip. All meals, snacks, swags and transport to and from and along the track are included. Sleeping bags and tents are extra. Alcohol is BYO. The trip is graded introductory to moderate and involves between 6-8 hours walking each day.
Greg Dixon was hosted on the Larapinta by World Expeditions and flew courtesy of Air New Zealand and Qantas.
Find out more at Australia.com