A community garden that has produced some "jumbo" kūmara in its latest harvest has one man saying new uses of the vegetable should be explored, like making wine or ice cream.
Kai Rotorua, previously known as the Rotorua Local Food Network, is a non-profit organisation which aims to teach locals to grow and use food crops.
The giant kūmara were harvested by the organisation at the community garden at Te Puea Orchard.
The average size was between 600g and 1.9kg while the largest was a whopping 3.2kg.
Kai Rotorua head Te Rangikaheke Kiripatea said he believed it was something about the soil, putting it down to "Mother Nature's GMO," he said.
"It's absolutely beautiful land and the first time kūmara has grown in that spot," he said.
"I've had one that's been on my bench for three and a half weeks and I just take a slice at a time and wrap it up."
Kiripatea said Kai Rotorua had taken box-loads of their harvest to a few tangis recently and the response had been "absolutely tremendous".
"People have been amazed with the volume and particularly the sweetness...large kūmara tend to be woody but these are so sweet and tender."
Living and breathing the root vegetable, Kiripatea said it was undoubtedly his favourite vegetable which was helping him switch to a more plant-based diet.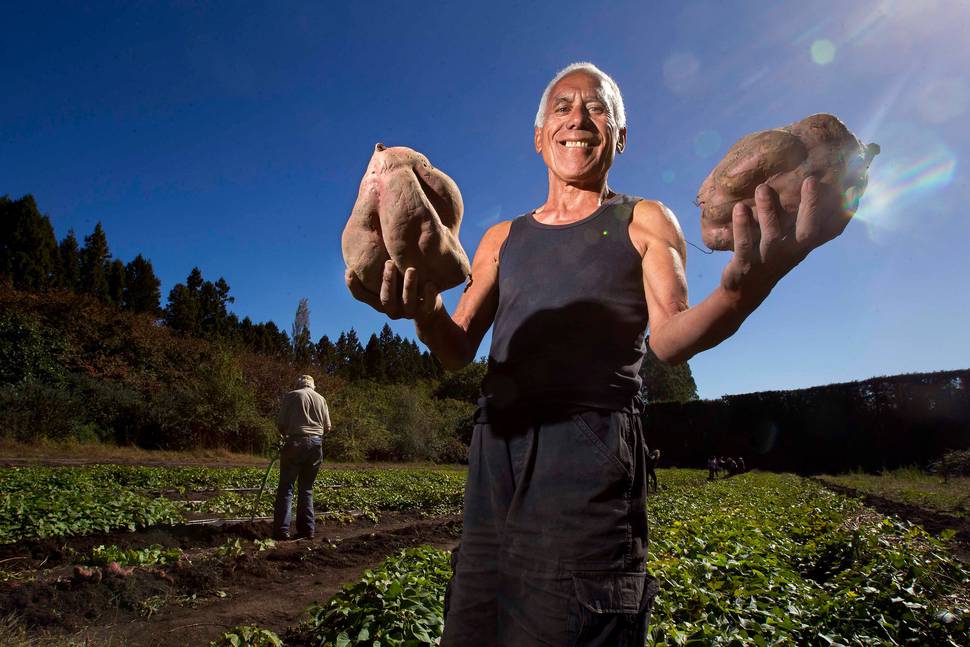 Kiripatea said there was a "variety of untapped recipes" and New Zealanders needed to go beyond the mash, roasts, and wedges.
He said Kiwis should look to Japan for inspiration, where ice cream and wine were among the many things made from the vegetable.
"We need to look at kūmara wine, I think it has exciting possibilities," he said.
Volunteer Teresa Brown said the size of the kūmara came down to the quality of the soil which Kai Rotorua put a lot of love and energy into.
Brown said one kūmara was all she needed to make a "massive pot of soup" but she preferred the smaller ones as they packed a lot more flavour.
"It's not about the size," she said.
"I think it's awesome to know that we can grow in the size and quality over here in Rotorua," she said.
Warren Suckling, also known as 'Ernie the Kūmara King', has been a kūmara farmer in Northland for 35 years and said 300 to 650g was the average weight.
"Anything above 650g is called jumbo," Suckling said.
He said there was no relationship with the size and length of time in the ground but weeding, temperature, soil and space played a key role in the crop.
Tips for a massive kūmara
-Temperature needs to be above 14C - kūmara don't like frost
-Meticulous weeding
-A lot of space between each kūmara
-Every second season, take a break from planting in the same spot. Allow the soil to recuperate.