The Ministry for Primary Industries, DairyNZ and Beef + Lamb New Zealand recently released the 2019 Mycoplasma bovis National Plan.
The plan set out three goals: to eradicate the disease from New Zealand, to reduce the effect of the disease and the eradication programme for everyone affected, and to leave New Zealand's biosecurity system stronger.
MPI's M. bovis programme director Geoff Gwyn spoke to The Country's Jamie Mackay on the reasoning behind the report, and to give an update on how everything is tracking.
How is the battle against Mycoplasma bovis going? I notice on Friday you released a new national plan.
"We produced a plan last year after the decision to eradicate, and that plan was in essence a combination of what I'd see as strategic document and a 'how to do it' document – quite detailed in my view and not easy to read for follow."
"What we've produced now is basically an eight page, very simple, national plan. Which is quite clear around the three goals we're trying to achieve and probably more importantly for most of your listeners, it establishes seven key measures that we will be reporting on to show how we're progressing towards eradication."
MPI has changed the way it identifies infected properties. I must admit I'm slightly confused by that.
"Previously we would wait for a DNA-sequenced PCR result, which was the old infected properties if you recall – which is an epidemiological case definition. We've now got a lot of experience and data around the ELISA blood test and we're now depopulating on the blood test alone."
"That's something that's not only been supported but actively encouraged by the Technical Advisory Group (TAG) when they met late last year."
"What we want to do here is be transparent around the size of the incursion and our progress towards eradication."
"We've decided that it would be far easier just to report what we're calling confirmed properties, irrelevant to how we got to our decision around depopulating ... it's all properties over time that we have determined to have M. Bovis. I think it's a lot simpler."
Let's look at those numbers. 161 in total, 103 have been cleared, 58 that are active – are we winning the battle? Is it going as well as it could possibly go?
"I think the TAG report is what gives me confidence. They gave us a solid B pass. There are some areas we have to improve in, but I think what is encouraging for your listeners and certainly for me, is that TAG is more confident of eradication when they met late last year than they were in May when we actually made the decision to eradicate."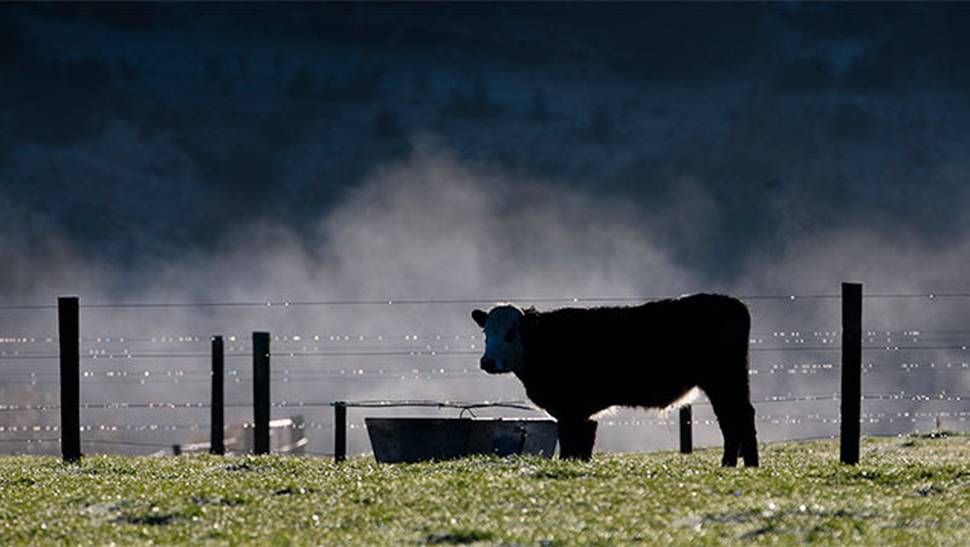 I think your decision to eradicate rather than control and manage has been vindicated. We can safely say that?
"I think so. I think everyone was clear at the time. We only had one shot at this. We had to make a call whether to attempt eradication or not."
"I want to be clear here. 161 confirmed properties out of 24,000 farms in New Zealand isn't a large number. But it's intensely personal for the farmer and the family of those properties."
"It has had a disproportionate impact … in places like Ashburton, Invercargill and Oamaru have borne the brunt of this."
"So when I talk about success, I don't want us to lose sight of the fact that there are disproportionate impacts on small communities, and we just need to keep that in the forefront of our mind."
We had a report from a farm consultant yesterday saying what a shambles it was, some of the disinfecting [of] these infected properties. He gave the example of some contractors ... only cleaning three or four troughs a day Geoff Gwyn. You and I could do that before morning smoko!
"We contract that work out to reputable cleaning firms. We also have performance metrics as you'd expect in any contracted service, over the top of their performance. If they're not delivering, believe me, we'll get rid of them."
"If your farm consultant is happy to send me an email or ring me direct, I'll take that up."
"We closely monitor these firms, and if they're not delivering to our expectation, like any service – then we get rid of them."
Alfons Zeestraten was in court in Southland yesterday. What do we read into this?
"He's obviously going through a prosecution process. You've kind of caught me on the hop there because I don't know what the outcome of that court case was. I knew he was appearing yesterday, but I don't actually know what the outcome was."
MPI were at lengths to say this wasn't related to M. bovis.
"He's facing charges under the biosecurity act and they're not related to the introduction of M. bovis."
Are we any closer to finding out how the bloody thing got here?
"If I'm honest with you, no. And if you read the TAG report they actually consider that it would've been nice to know, but no longer has great relevance, and they think we've actually put a fair bit of time and effort into it. They are suggesting we continue, but we don't make it the focus of our efforts."
Are we still dealing with just one strain?
"All the evidence I have in front of me says that Jamie."
Read the Mycoplasma bovis 2019 National Plan Summary below: