Wakefield shearer Travers Baigent doesn't do a lot of competitions, but for the second time in a couple of years, he's come out of the woodwork to roll a top gun in an open title.
Upholding the pride of the top of the south, Baigent beat long-travelled hopeful and national top 10-ranked Brett Roberts, of Mataura, on Saturday at the Nelson A and P Show.
At the Tapawera Sports south of Nelson in January 2017, his win included beating then Invercargill World Championships Irish hopeful and new World Lambshearing record holder Ivan Scott.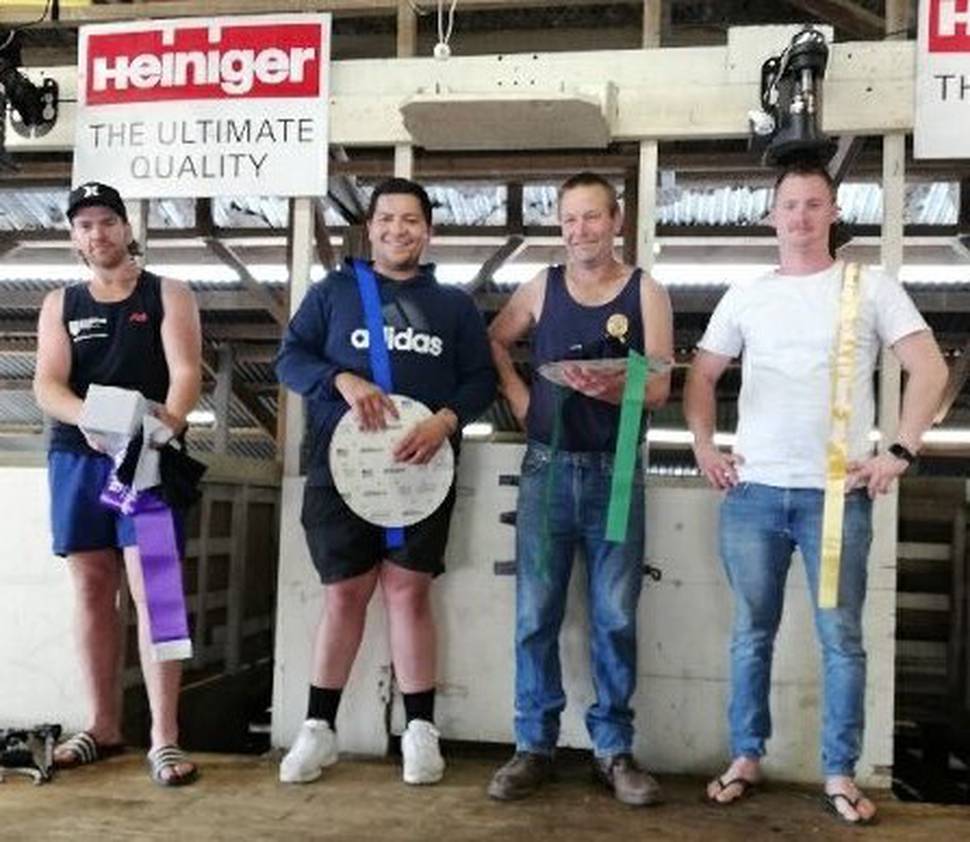 Winning only his fourth open title, the other two having been at Murchison, Baigent put at least two sheep around the complete field in Saturday's final, in which he cleaned-out the 20 in just over 18min 50sec, and beat Roberts to the finish by almost two minutes.
The Southlander had the better quality but, also maintaining a reasonable standard, the 29-year-old Baigent was still able to win with a comfortable margin of 4.94pts.
Read more about rural events here.
Chilean shearer Luis Pincol won the senior final, after travelling about 500km from home in Canterbury to face just one other opponent. It was a return to the scene of his first competition win - an intermediate title in 2014.
It was his 15th senor win, and he made the trip even more worthwhile by winning a cleanshear among competitors from all classes.
Tyson Crown, who had travelled from Mataura with Roberts, added the intermediate title to a victory he had at the New Zealand Corriedale Championships in Christchurch eight days earlier, while Canterbury-based Kelly Poehls, from Makara, near Wellington, got due reward by having a maiden win in the junior final, her sixth final of the season.
RESULTS of the Nelson A and P Show Shears at Nelson on Saturday, November 24, 2018:
Open final (20 sheep): Travers Baigent (Wakefield) 18min 50.91sec, 65.996pts, 1; Brett Roberts (Mataura) 20min 48.7sec, 70.936pts, 2; Hugh De Lacy (Rangiora) 22min 6.6sec, 75.13pts, 3; Nick Nalder (Takaka) 20min 2.54sec, 76.977ts, 4.
Open plate (10 sheep): Paul Hodges (Reefton) 10min 8.22sec, 40.211pts, 1; Chris Jones (Blenheim) 11min 29.87sec, 44.894pts, 2; Alex Drake (Nelson) 10min 55.09sec, 47.155pts, 3; Jotham Rentoul (Nelson) 11min 58.66sec, 55.433pts, 4.
Senior final (8 sheep): Luis Pincol (Chile/Geraldine) 11min 49.34sec, 43.592pts, 1; Jordan Hart (Blenheim) 12min 34.78sec, 48.364pts, 2.
Intermediate final (5 sheep): Tyson Crown (Mataura) 8min 8.21sec, 35.611pts, 1; Allan Oldfield (Geraldine) 9min 9.19sec, 40.26pts, 2; James Dickson (Mataura) 8min 4.62sec, 43.231pts, 3; Johnny Wyllie (Moutere) 9min 1.19sec, 54.46pts, 4.
Junior final (3 sheep): Kelly Poehls (Makara) 10min 10.19sec, 39.18pts, 1; Kimberley Maclean (Motueka) 11min 7.59sec, 47.05pts, 2; Campbell Barker (Tapawera) 10min 31.13sec, 56.89pts, 3.
Cleanshear: Luis Pincol (Chile/Jeraldine) 3.5pts, 1; Travers Baigent (Wakefield) 4.5pts, 2; Brett Roberts (Mataura) 5pts, 3; Allan Oldfield (Geraldine) 5.5pts, 4.
Top of the South:
Junior final (3 sheep): Johnny Wyllie (Moutere) 6min 52.22sec, 39.64pts, 1; Campbell Barker (Tapawera) 8min 54.68sec, 43.73pts, 2; Kimberley MacLean (Motueka) 9min 28.75sec, 48.1pts, 3.