Dave Dobbyn's rooting for the Wallabies, Jerome Kaino is dressed as a Viking and Brooke Fraser's making her rapping debut - it's all happening in the latest Cure Kids charity single.
Three years after Feel Inside (and Stuff Like That) became an online sensation, New Zealand's top pop stars are at it again with Team, Ball, Player, Thing.
Team, Ball, Player, Thing - just the single
Team, Ball, Player, Thing - full length
The single, which debuted tonight, is a fundraising effort for Cure Kids with the hopes it will help raise at least a million dollars to support research into finding a cure for Battens disease.
Battens disease is a rare and fatal autosomal recessive neurodegenerative disorder that begins in childhood.
Team, Ball, Player, Thing's premise is the same as Feel Inside: director Taika Waititi sits at a round table meeting with a bunch of kids to ask their opinion about how to make a really great charity song that doubles as a supporter's song to help the All Blacks win the Rugby World Cup.
Using cute kids to get laughs is arguably a cheap trick, but it's undeniably charming and very funny.
"Oh my gosh we could have lasers," one small child exclaims when probed as to how the All Blacks could get the edge in England.
Other suggestions include magic wands, robots, dragons, unicorns, Vikings and a more traditional "eating lots of fruit and vegetables" (because carrots give you lots of energy in your ankles, apparently).
All the suggestions appear in the song's lyrics or in the video's animation.
"We'll get magic wands, we'll get 'em from the wand store, it's obvious/ Use them to freeze the other team, right in front of us," and, "You could play the game before the other team arrives / You could literally score hundreds of uncontested tries," are two rather inspired lines.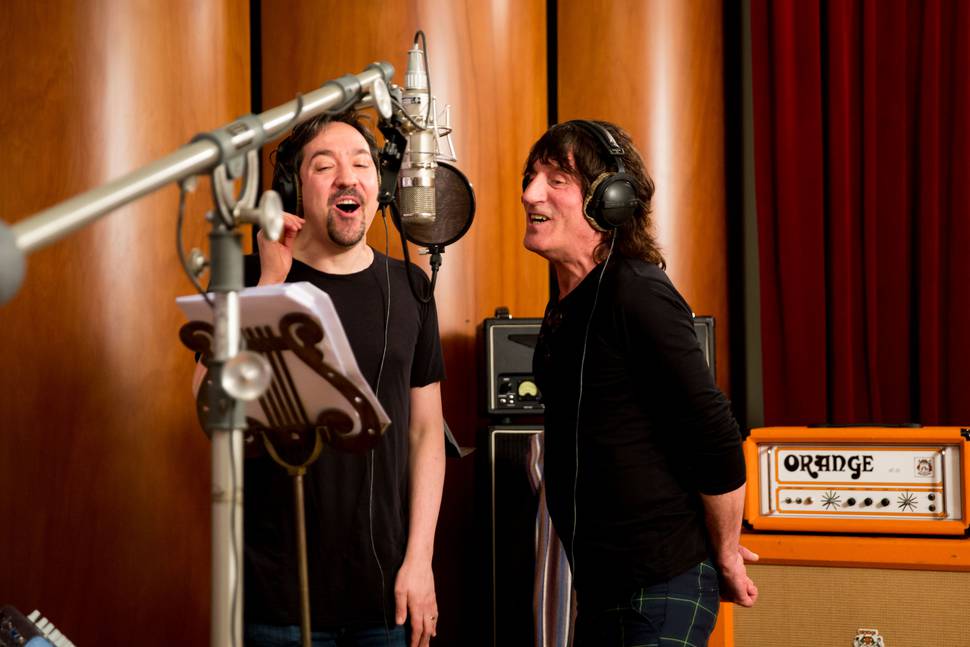 The video has All Blacks flanker Jerome Kaino in a red wig and Viking helmet gazing heroically into the distance, and a trio of All Blacks are shown running away from a pair of giant animated ants, among other kid-inspired scenes.
It's also a who's who of New Zealand's celebrity landscape, with veteran singer Dave Dobbyn playing a key role in the video's "plot."
After insisting he's a bad luck charm for New Zealand sports - "It's a Makutu!" - Dobbyn decides to write a supporter's song for the Wallabies in the hopes it will make them lose the Rugby World Cup.
"Oolaroo to Wollongong, what could possibly go wrong / England France and Ireland too, good luck to all of you."
Cure Kids is accepting donations toward supporting Lincoln University researchers find a cure for Battens disease.
- Supporters can download the song for free when they make a donation at www.kiwiscurebatten.com or by buying the song for $2.49 through iTunes.
- For more behind the scenes footage visit us on Facebook (www.facebook.com/CureKidsCharity), Twitter (www.twitter.com/CureKidsNZ) or YouTube (www.youtube.com/CureKidsNZ).
- nzherald.co.nz
- Additional reporting by NZME. News Service