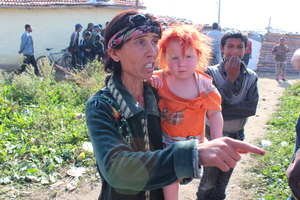 The biological mother of Maria, the little blonde girl found living in a Roma settlement in Greece earlier this month, tearfully denied selling her daughter yesterday and insisted she gave her up in the belief the child would have a better life.
Sasha Ruseva, 35, the Bulgarian woman who was identified as Maria's mother by DNA testing, said that she had given up her child to a woman who approached her in the street.
"I met a blonde lady one day and we started talking and she told me, 'why don't you leave this kid to me, I don't have kids and I have a comfortable place and the kid can live better with me than the way you live'," Ruseva claimed during an appearance with her husband Atanas, 38, and three of their children, on TV7, a private Bulgarian television station.
Ruseva denied ever having met Christos Salis, 39, and Eleftheria Dimopoulou, 40, the Roma couple who Maria was discovered living with.
The pair have been charged with child abduction.
Her story seems to support the theory that Maria may well have been intended for sale to a childless couple by a child trafficking gang but that she ended up with the Greek Roma couple after no buyer could be found.
A lawyer came forward last week claiming to have information that Maria had been in the care of a businessman seeking to adopt but that he had rejected her after discovering she had congenital eye defects - most likely related to the albino condition she shares with five of her nine siblings.