Ahead of their NZ concert, tuba player Wilfried Brandstotter, of Mnozil Brass, has a chat to Scott Kara about performing some serious musical fun.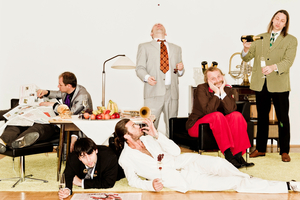 Polite and jolly tuba player Wilfried Brandstotter has fond memories of the tavern where his band Mnozil Brass formed 20 years ago.
"When we started it was a very simple, very small tavern for about 40 people," he says of Josef Mnozil's tavern in Vienna. "Mrs Mnozil would be cooking and Mr Mnozil would be standing at the bar serving people."
Once a month at the venue there was a jam night where a bunch of musicians would meet and start playing together. And it was out of those nights that Mnozil Brass formed as a seven-piece ensemble made up of three trumpets, three trombones and Brandstotter on tuba.
"There was no plan behind it," he says. "We didn't intend to make a living out of it. We just went there because it was just across the road from the music academy in Vienna.
"We went there and started playing the tunes we knew from our villages because we all started playing as youngsters in the local brass bands and so we had a common repertoire of marches and polkas that are played all around Austria.
They are familiar tunes for everybody."
They got hired to play at everything from christenings and weddings to funerals and farmers' markets.
"People liked it and that's how it all started."
These days, things have changed. Josef and his wife retired a decade ago and sold the venue, and though it doesn't have the charm of old it's still the band's spiritual home.
Also, 10 years ago the band mates made a decision to pack in their other jobs (though many of them still teach students) and focus on Mnozil Brass.
"It went up like a rocket then, I'd say," says Brandstotter on the phone from Vienna ahead of the band's first tour to New Zealand this month. Now they play around the world making audiences laugh with their mix of deft playing, comedy and theatre.
"We have fun on stage. We've found a very good way of having fun. That's the most important thing for us," he says.
But Mnozil Brass stop short of falling into novelty act territory because they are all virtuoso players and have played everywhere from the big German opera houses in Berlin and Munich to London's Royal Albert Hall.
"First thing is we always play as perfect as we can. And we never make fun about the playing. Because when you lose the quality in the playing then it's dangerous, I'd say. We keep the level really, really high. The audience know we play to a higher level and all the fooling around is like side orders."
Their humour is a little black, very wry, and sometimes slapstick with a musical repertoire that includes Austrian folk songs, classical pieces, and pop tunes, including their epic and hilarious version of Queen's Bohemian Rhapsody (which you can check out on Youtube here).
"We've played it 500 times, possibly, and we love Queen. We wanted to make a good version of it and it took us quite a while, but it's about having total dedication to the song."
You can tell Brandstotter lives for his music, and especially loves his tuba. He started out playing the trumpet but when he wasn't accepted into university as a trumpeter a friend suggested he give the tuba a go. And he's been carting one around with him ever since.
He now has enough tubas to be able to lend his students an instrument until they can afford to buy one.
"I bought a tuba and loved it from the very beginning because I love how it sounds. Most of the guys want to be trumpet players, or whatever, but for me the tuba is just the right instrument. I'm the rhythm section and I really like it."
He says at the shows in New Zealand audiences can expect "some brass music, some very nice entertainment, and a lot of jokes going on on stage".
Although the majority of the show has no talking - just playing.
"But people seem to understand what we are doing. It doesn't matter if we are in Japan, America, or Europe. It's no different because this rapport we have with the audience, it simply works. It's hard to explain it. We just found our own style and we've been developing it for almost 20 years now so we have found our approach to music, to humour and comedy, and people like it everywhere we go."
Who: Mnozil Brass
What: Austrian brass band combining comedy, theatre and laughs
Where & when: St James, Wellington, September 23; ASB Theatre, Aotea Centre, Auckland, September 24
-TimeOut