73 RAME RD, GREENHITHE
SIZE:
Land 1295sq m; house 198sq m.
PRICE INDICATION:
CV $850,000. Auction February 28.
INSPECT:
Sat/Sun 2.30-3.15pm.
SCHOOL ZONES:
Greenhithe Primary, Albany Junior High , Albany Senior High .
CONTACT:
Jackie Smith, Bayleys Real Estate, 021 505 520 or (09) 487 0640.
FEATURES:
Architecturally redesigned Victorian villa with front bedrooms, rear living areas leading to a large deck and flat garden. Open-plan kitchen with butler sink, rimu island bench. Central under-floor heating, beautiful stained glass doors, north-facing decks, mature grounds, underground tank for possible irrigation. Large deck leading to the garden.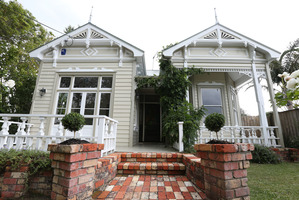 Some villas live entirely in the shadows, waiting for a flicker of attention or even a full makeover. For one or two in a million, there might even be a few minutes in the television limelight.
This 100-plus-year-old double-gabled beauty has achieved all of those milestones including two renovations and a role in the TV show Go Girls without much effort at all, and certainly no obvious attention-seeking behaviour.
Good looks and fine bones have done it all for this Victorian villa that sits back from the street on its picture-perfect site framed by mature trees, a white picket fence and a rose-lined curved brick path.
It's easy to miss this chocolate-box scene as you swing down around the corner to the jetty at the bottom of Rame Rd. Thankfully, the people who mattered most have not. Kylie Heath used to walk past here with her three young children and think, "What a pretty home." In 2009, she and her husband, Adam, who'd lived nearby temporarily, got to call it their own.
Some time later another local buyer knocked on the Heaths' front door and told them his client wanted to buy their home, not the one nearby he'd been trying to sell them.
As for that TV role, it was a sharp-eyed location scout who found this perfect rural home for a particular Go Girls scenario set in Thames.
For the Heath family, who moved here from Tasmania, this was a home they loved at first sight although they did both privately wonder if it'd be a big job to maintain.
However, an architecturally designed renovation took care of any doubts and returned them a lighter, more functional home.
The key to its success lay in the new rimu tongue-and-groove panelled kitchen that is the interface between the two living areas and the extended deck that leads to the level lawn and garden.
This was the latest makeover in the history of this home, which dates back to the early 1900s on a Dominion Rd site in Mt Eden. Following a period of use as offices, it was sold and moved here in the mid-1980s, undergoing extensions and renovations in the mid-1990s.
This time round, Adam and Kylie wanted a better, larger kitchen, a separate laundry and a master en suite, but they weren't sure how best to achieve it.
Architect Paul McIntosh, of Martin Hughes Architecture Interiors, reconfigured the entire indoor living area and stretched Adam's and Kylie's powers of visualisation in doing so.
Says Adam, "The conversation started around an inefficient kitchen. Then Paul came in and saw how we could optimise the way the house worked. He pushed us much further than we were comfortable with and the result has been fantastic."
The annexe that was once part of their previous kitchen is now a large laundry, a bathroom with clawfoot bath and a separate powder room, all with soft grey cork flooring tiles.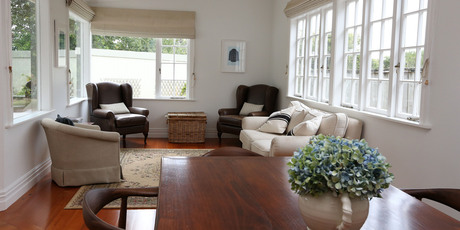 Their new master en suite is in space once taken up by a fireplace. Within their bedroom there is full-height wardrobe and cupboard storage. Underfoot, is subtle evidence in the kauri flooring of the line of the original bay window, which has been squared off and opened out through French doors to a pretty deck.
There is history on all sides here and the Heath family have added their own chapter to the story of this home. Now they're looking for a little more land for their family, two dogs and two horses, one of whom - called Rain - has had his own moment of fame as a white horse-extra in a movie and in a music video.