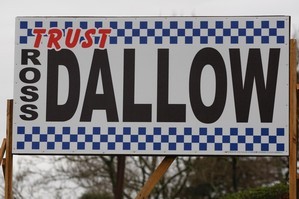 It's the mark of the boys in blue and Ross Dallow hopes it will be an arresting image.
The Waitakere City councillor has defended his decision to embellish his election billboards with police blue-and-white livery, saying it was "different to putting a police badge up there".
"I wouldn't do that. I think that would go pretty close to impersonating a policeman under the Police Act," he said.
"I'm widely known because of my police background ... I was district commander out here and I think at one stage someone got an opinion about it. They thought it might have been patented or it was wrong for me to use it."
A spokesman at Police National Headquarters in Wellington said the checkerboard look was not part of the "core visual identity of police" under the Policing Act 2008.
Under the act it is an offence to use a police uniform, item of that uniform or police article "in circumstances likely to lead a person to believe that the user is a police employee".
Mr Dallow - who was criticised for comments about the "browning" of New Zealand at a West Auckland citizenship ceremony - said "politics of envy" might be at play.
He had wanted to create something different. His sign was "about name recognition" and his 36 years in the police had shaped him as a person.