In the wake of equestrian star Jock Paget's horse testing positive for a banned substance, Phil Taylor asks whether our reaction betrays a double standard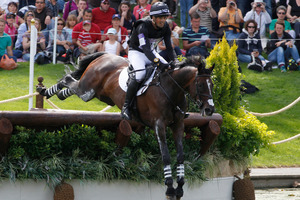 Next April in the Kentucky countryside, an unlikely journey would be complete, with a narrative you couldn't but love.
It's a story that was fit for Disney - until the shocking news that a banned drug was found in the system of our star's horse after he won one of the world's iconic events.
Jonathan "Jock" Paget is the best new thing anyone in equestrian eventing can remember, another jewel in New Zealand's glittering crown. New Zealand riders have won 10 Olympic medals and the likes of Sir Mark Todd and Andrew Nicholson are revered in Europe. Paget's story is irresistible because the bricklayer, who turns 30 this month, came from nowhere to succeed in a sport associated with wealth and connections.
He is an outsider - he never rode in pony club - who arrived on the scene late and progressed so spectacularly that in three years of international competition he rose to No 3 in the world and was one win away from becoming only the second person (and the first Kiwi) to win the grand slam of the three most important classics and claim a prize of $440,000.
Paget was born in Wellsford. His family didn't eat with silver cutlery. When Jock was 3, the Pagets moved to Sydney where he would later begin a bricklaying apprenticeship. Riding came into his life at the age of 18, when his father bought a lifestyle property on the outskirts of the city and furnished it with a couple of horses.
"I just started bush-riding with my dad," Paget told the Herald last year. "It was a great way to spend a weekend - go for a ride and have a few beers and hang out. There were a whole bunch of people who did it with us and it just went from there."
He chose the rough and tumble of rodeo, figuring that trying to hang on to a riled steed for eight seconds would improve his riding. But bucking a horse out of the chute didn't make for much of a relationship with horses, so he took a year off bricklaying to work in an event yard. "I just like the lifestyle of being with horses all day. It was hard work but it didn't feel like hard work at the time."
He was spotted by former Olympian Heelan Tompkins and recommended to Frances Stead, a former head of L'Oreal New Zealand and the owner of Clifton Eventers. Paget still rides Clifton horses. Inside two years, he went from never having jumped a fence to competing at three-star eventing level (the second-highest); a few years later he placed seventh at the world championships and, in 2012, helped the New Zealand team to second place at the world equestrian festival in Germany and to bronze at the Olympic Games.
His trajectory continued this year. In May he won the Badminton horse trials - a grand slam event along with Burghley and Kentucky - beating Nicholson, his veteran countryman and the world's top-ranked rider, who finished third in his 33rd attempt to win an elusive Badminton title. Paget followed that in September by winning Burghley on the same horse, Clifton Promise, pushing his ranking to three and setting himself up for Kentucky and the shot at the biggest prize. It was a record that would have made Paget hard to ignore for the "emerging talent" Halberg award.
And then on October 15 came news that the blood sample taken from Clifton Promise immediately after the Burghley event was positive for the banned sedative Reserpine. It was the first time a New Zealand horse had failed a drug test in international equestrian competition.
Paget has said he did not give the horse Reserpine, has requested the B sample be tested at a different laboratory and has enlisted scientists to try to pinpoint how it got into the horse's system. Grass, hay, fertiliser, "everything" would be analysed to try to get to the bottom of it, he has said. Stable security would be looked at, foul play could not be ruled out.
If the B sample is also positive, he will automatically lose the Burghley title and face a tribunal that will determine the length of any subsequent suspension. Two years is standard in the absence of mitigating factors. A ban would also see him lose the performance enhancement grant he receives from High Performance Sport New Zealand and a long absence from competition could make it hard for him to win selection for the next Olympics.
The reaction in New Zealand has tended to give Paget the benefit of the doubt. Blog comment has been sympathetic, most reporting empathetic and the national body, Equestrian Sport New Zealand, has effectively prematurely declared Paget innocent of knowingly doing wrong.
"We have absolute faith in the comments made to us and we will stand with him," chief executive Jim Ellis told TV3 recently, while he told the Herald if the B sample is also positive, "Then between himself and ourselves we've got to do everything we can to prove there was nothing untoward, or an explanation as to why it was in the horse's bloodstream."
Paget's mentor, Australian Kevin McNab, is in the same boat, as his horse returned a positive to the same sedative at the same event. However the equivalent Australian body took a less emotional, more professional approach, stating that it would give guidance to McNab as he worked through the options available to him in the International Equestrian Federation (IEF) process and that it could not comment further while the process was running. Unlike its New Zealand counterpart, it made the point that it took breaches of doping and medication control seriously and had adopted and endorsed relevant anti-doping policies.
Veteran sports commentator Joseph Romanos and RadioLive sports host Glen Larmer spotted a double standard. The reaction in New Zealand was interesting, Romanos told National Radio, because "if it was an overseas competitor that had returned a positive drugs test, there would be all sorts of fingers being pointed from here about these 'dirty cheating overseas people'. But because it's one of our own ... either we turn a blind eye or we are naive about it or we just refuse to believe it."
Ditto Larmer: "We are so quick to throw stones at the people or teams we think are cheats in sport ... but when it comes to our own we don't do the same. We are two-faced, we are hypocrites."
Both mentioned the outrage here when Nadzeya Ostapchuk failed a drug test after she out-threw Valerie Adams at the London Olympic Games. "When Ostapchuk tested positive last year," said Romanos, "we were racing over ourselves to blame her and say what a dirty cheat she was, but [there's] not the same rigour with Jock Paget." The Belarussian shot-putter hadn't previously failed a drug test (she was stripped of the 2005 world title this year following retrospective testing of samples) and so attitudes about her at the time were based on suspicion and her country's chequered record.
Her country displayed similar solidarity towards her as Paget has been accorded.
"It's a regular occurrence when a superstar is alleged to have broken the rules that the immediate reaction is "no, it can't be", David Howman, the director-general of the World Anti-Doping Agency told the Herald from Montreal. "Even [with Ostapchuk], that was the reaction in Belarus. It was very strong, very supportive in terms of the submissions that were originally made."
Though an understandable response, "you need to step back and make sure you are not running up the emotion flag", says Howman.
That is not to suggest Paget's or McNab's cases equate to the Belarussian shot-putter's, though Ostapchuk did claim she'd be mad to take an easily-detectable steroid prior to the Olympics. In Paget's case, so many things don't equate; the drug, the event (reserpine is a long-acting sedative that can take up to 45 days to clear a horse's system and though it may benefit dressage it is said to be detrimental for the cross-country and show jumping disciplines). Rather, the point is that Kiwis are not immune from the influences of self-interest or nationalism.
The peptide hormones abuse scandal ripping through Australian rugby league and AFL prompted our sports minister to request a report (still pending) on corruption risks from Sport New Zealand. The report may point to our weak importation laws and penalties that are a disincentive to prosecute importers of the hormone, which is currently undetectable in the body. The weak legislation may reflect an ingrained national belief that our athletes are above cheating, said Howman, a Wellingtonian. "I think we like to look across the ditch and say 'the convicts over there do these things but we don't'."
Auckland University psychology senior lecturer Dr Niki Harre, doubts New Zealanders are any different from other nationalities when it comes to judging their own. It is easier for people to see the faults in groups other than their own, she says.
"Loyalty is a common reaction when 'one of us' is accused. That is, in the first instance, people want to stand by the person. When someone from another group is accused we may be quicker to judge. There is no real cost if we judge someone from an out-group negatively and are then proved wrong, but a clear cost if we do so with one of our own."
Paget appears to be the kind of Kiwi-made-good we like to think reflects ourselves, but good guys sometimes infringe too. Tyler Hamilton, reputedly the nicest guy in professional cycling, doped and dodged, famously hiding out from dope testers with his beloved dog, Tugboat, and a wife named Haven, in a Girona apartment he called "the Batcave". If perceived character has proved an unreliable guide, so have protestations of innocence - Lance Armstrong for example.
An imperative of sports bodies to promote their codes can lead to a desire to keep skeletons in the closet, an egregious example being the protection of Armstrong by cycling authorities - including the world body litigating in an attempt to stop the investigation that exposed the Texan.
Examples of national bias include the declaration by Spain's Prime Minister that its Tour de France hero, Alberto Contador, was innocent of doping at the time the Spanish Cycling Federation was deliberating on his positive test result to a steroid. The Spanish duly cleared him only for the international Court of Arbitration for Sport to overturn the decision on appeal and ban him.
In June, after Jamaican sprinter Veronica Campbell-Brown tested positive for a diuretic, her country and sport supported her. The IAAF declared it a "minor" case and a former prime minister acted for her at her initial hearing.
Jamaica and Kenya are among countries whose application of anti-doping programmes are currently being questioned by WADA.
A reluctance to apply the full anti-doping detection tool kit was an international theme, said Howman.
"One thing we find is we have the best rules in the world, the best science but nobody is practising them because of a lack of incentive to catch Former WADA president Dick Pound this week called for better commitment by the IOC to work towards more "morally-based, ethically-based sports systems". Pound, the founding president of the agency, spoke upon receiving the Play the Game award for his work for "a cleaner and more democratic sports movement".
"I do believe," Pound said, "that sport has become so important that we do face a crisis and we should not wait until we hit the wall before we do something about it. Because once you hit the wall, you have no idea what sort of chaos will result and how long it takes to earn back a reputation that you've built up for many years."
Rejecting double standards would help.
Trap for the naive
The world's top-ranked equestrian, Andrew Nicholson, says inexperience and naivety may have led to fellow Kiwi Jock Paget's horse failing a drug test.
Nicholson, who has 28 horses in his stables, told the Herald he operates a simple feed and supplements regime to minimise the risk of an inadvertent positive test from mix-ups.
"Rather than have a whole different host of additives, it is pretty much the same. It may not be the right thing [for each individual horse] but it seems to be doing the job at the moment."
Those in the sport were waiting to see the outcome of Paget's B sample, he said, and to listen to the story that came out afterwards.
"It is very different when it is your horse rather than yourself. There are so many different things you feed horses and they can't read the label and say, 'I can't have that'. I have had the advantage of being in the job a long time and regularly getting my horses tested. It makes you aware of what you have to be looking out for.
"Jock has got up to the top level very quickly. Possibly naivety has been what's caught up with him, we'll wait and see."
The International Equestrian Federation (FEI) enforces strict liability rules, which hold the rider as the "person responsible" for what is in the horse's body. Paget and Australian Kevin McNab - whose horse also tested positive to Reserpine at the same event - have said they are trying to determine how the drug got into the horses' blood. The horses were stabled next to each other at the Burghley Trials, after which their A samples tested positive.
The only rider to be absolved of blame by the FEI Tribunal is British endurance rider Christine Yeoman in 2010. Her feed supplier admitted being the source of contamination.