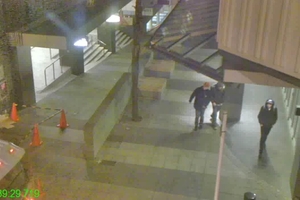 A homeless man brutally assaulted in central Auckland on Wednesday has died in hospital.
Edwin Linder was discovered on Mills Lane, between Queen St and Albert St, about 9am on Wednesday with severe facial injuries.
Police said they had upgraded their inquiry to a homicide investigation after Mr Linder died in Auckland Hospital yesterday.
A 17-year-old was arrested on Friday and is due to appear in court tomorrow charged with wounding.
Further charges were expected to be laid.
Police were also speaking to two other young men, aged 18 and 20, in relation to the incident.
Anit Ram, a caretaker at a building near the scene, came across the injured man and was shocked at what he saw.
"My boss was saying, 'Hello, hello', but the man was not talking. He was making noises, sounds like he had been punched," Mr Ram said.
"His face was bloody, black. He had black eyes. He wasn't well."
Mr Ram said the area where the man was found was a popular place for homeless people to sleep.
He had checked the security footage from his building and said there was no sign of the attack, only movements of several homeless people to and from the area.
Police set up a mobile command centre in the area and viewed hours of footage captured on cameras belonging to other businesses in the lane.
Auckland City Missioner Diane Robertson said the assault on the man was horrific.
"He is known to the mission. We all find it incredibly difficult when someone that we know is assaulted."
Mayor Len Brown has appealed for anyone with information about the "despicable and cowardly attack" to contact the police immediately.
* Did you know Edwin Linder? Contact the Herald with your tributes here.
- APNZ