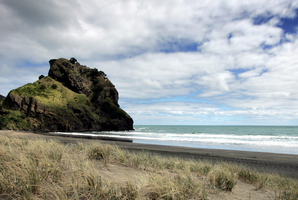 The longtime partner of a British man who drowned at Piha is taking comfort from the fact he died in the country he loved.
Simon Jones, who worked for the House of Lords for 30 years until his retirement in November, disappeared on Tuesday while swimming at the popular surf beach, 40km west of Auckland.
The 55-year-old's body was found soon after by a woman walking on the beach. Jones' partner, Ray Stoupe, 90, said Jones loved holidaying with him in New Zealand. Stoupe is from Auckland but has lived in the United Kingdom since the mid-1960s.
"He'd been here before but was always working and had to go back in a hurry. But he retired early in November and this time we were on an extended holiday. We went to Cape Reinga and White Island, and he absolutely loved it."
On the day of his death, Jones, who had retired to concentrate on his passion for photography, had "photographed everything in sight" before deciding to go for a swim.
Stoupe said he did not know what had gone wrong.
"He was a very strong swimmer but he was unfamiliar with the force of the sea there. It was a glorious day and the place looked absolutely superb. There's comfort in it, that it was a beautiful day in a beautiful spot and he was doing what he loved doing, swimming."