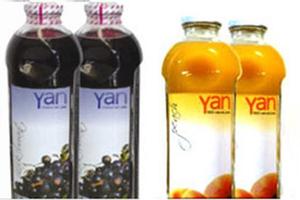 A range of imported drinks marketed as fruit juice has been recalled after the Commerce Commission found the products contained little or no trace of fruit.
Armenian Imports Limited, trading as Super Juice, distributed four juice products from Armenia under the brand name Yan.
An investigation by the commission found at least two of the products were incorrectly labelled.
Beverages described as 100 per cent blackcurrant juice, peach juice and pomegranate juice were tested by an independent laboratory.
"The products which claimed to be 100 per cent blackcurrant juice and 100 per cent peach juice contained little or no traces of fruit of any kind, let alone the fruit that was claimed on the labels," commission fair trading director Adrian Sparrow said.
The pomegranate juice was found to contain "some" pomegranate. Yan 100 per cent apricot juice was not tested.
The products also claimed to contain vitamin C beyond typical levels found in blackcurrants, peaches and pomegranates.
"The testing shows clearly that the information on the labels relating to these products is incorrect," Mr Sparrow said.
All the products had been recalled for further testing.
"As the exact nature of the products is unknown there is not only potential contravention of the Fair Trading Act but risk to consumers," he said.
"Although at this stage of the commission's investigation, there is no evidence to suggest that these products are unsafe, given the uncertainty as to the products' ingredients, the commission advises consumers to exercise caution if they have known allergies."
Mr Sparrow said accurate labelling on food and drink products was vital for consumers to make informed purchasing decisions.
Source: NZPA