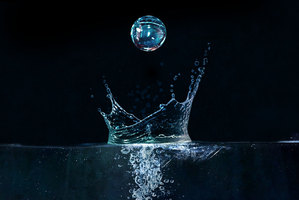 Local lad David "Eavesdrop" Wood's debut album is unlikely to give you pins and needles as its title suggests. It's lively, cruises along on a higher plane, and can also plumb the beautiful dark depths of drum 'n' bass, like on Golden Dawn, which ebbs in and out of heaviness with some dramatic jungle rumblings. And then there's This Jungle System, a snappy, break-neck slammer with piercing, angular beats, and watch out for Splash Out because its flailing fits are liable to lop your head off. The style of music that Eavesdrop (perhaps best known for his remix of Gotye and Kimbra's Somebody That I Used to Know from 2011) makes can be loosely described as liquid drum 'n' bass. But the magical thing about it is how it runs off, and seeps in all sorts of directions to create some of the most creative and uplifting local electronic music in a long time.
Pins & Needles takes a highly musical approach too, with the violin on Violin Blossom making it an exotic and enchanting beauty, and Eavesdrop's drive to write songs rather than simply fast beating music is clear.
And though perhaps not so obviously crossover chart material, he has a knack for writing catchy, inviting tunes (like first single Clear Water) while staying true to his beloved drum 'n' bass - which is a rare feat.
Stars: 4/5
Verdict: Creative drum 'n' bass for your head and feet
Click here to buy Pins & Needles by Eavesdrop.
- TimeOut