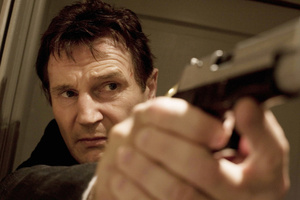 If you're watching Taken 2, you won't be expecting an intelligent action film in the style of the first three Bourne instalments.
Heck, you're probably not even expecting Die Hard.
What you're expecting is Liam Neeson kicking ass. You want to see him on a hellbent mission of revenge, taking out bad guys one-by-one, with plenty of car chases, extreme violence and carnage along the way.
And that's exactly what you get. After being kidnapped with his wife during a visit to Istanbul, Taken 2 turns into a carbon copy of the first film as Neeson, as emotionless former CIA agent Bryan Mills, employs extreme violence and underhanded tactics to save his wife and daughter from Albanian mobsters.
Yes, it's completely unbelievable - especially the taxi car chase scene that ends up on the steps of the American Embassy.
But you won't care about that, because as far as brainless action films go, Taken 2 does the business.
Extras: The Blu-ray edition comes with the 'Extended Harder Cut' of the movie, as well as an alternate ending, deleted scenes and several featurettes.
Stars: 3/5
- nzherald.co.nz