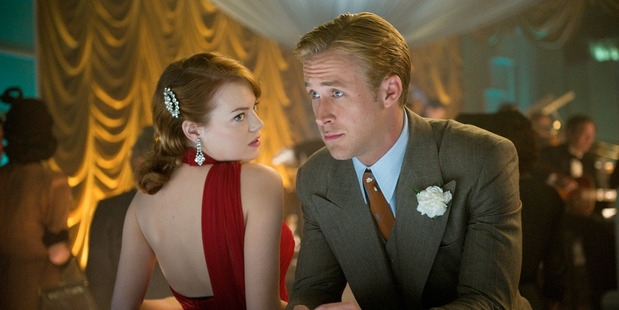 Gangster Squad is the highly stylised vision of director Ruben Fleischer, and it's fair to say poetic licence has been taken in this re-telling of the true story of organised crime in Los Angeles during the 1940s and 50s.
Immaculate costumes, tasteful decor, exquisite vintage cars and the constant shake of a cigarette packet set the scene for this film noir, about a group of "off the books" cops hand-picked by Sergeant John O'Mara (Brolin) to destroy the LA criminal network run by mob king Mickey Cohen (Penn).
Just watching Penn makes this film worth seeing. With a slightly disfigured face, he's fiery and scary and spends the movie spitting out one-liners and condemning men to horrible deaths. Penn is surrounded by a competent cast who deliver solid performances, although they mostly portray straightforward and predictable characters.
O'Mara is an ex-marine who has returned from war but is struggling to adjust - even with a baby on the way he realises the only thing he knows is how to fight.
Ryan Gosling gets the role of the romantic, who joins O'Mara's gang after seeing the collateral damage Cohen's battle for supremacy is inflicting on the LA public. He's also the guy who seduces Cohen's girl, played by his Crazy, Stupid, Love co-star Emma Stone. The rest of O'Mara's sidekicks are just that - quirky bit players who offer the occasional laugh and the ability to use a gun or knife as they set about their vigilante mission to destroy Cohen's businesses.
This film looks pretty but it's not afraid of violence. The first scene sees Cohen tear a man in two by tying his arms and legs to cars driving in different directions. It's an appalling and striking beginning, and though the violence doesn't get any worse it gives you a good idea of what to expect.
Gangster Squad is a stylish, tension-filled watch but, for all its brutal violence and determined men, it lacks the depth of character to make it truly memorable in the manner of L.A. Confidential and The Departed.
Stars: 3/5
Cast: Sean Penn, Ryan Gosling, Josh Brolin
Director: Ruben Fleischer
Running time: 113 mins
Rating: R16 (violence, offensive language and sexual themes)
Verdict: A stylish and sultry history lesson
- TimeOut