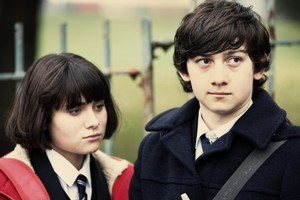 Director Richard Ayoade's debut feature film based on the novel by Joe Dunthorne may not have you laughing riotously, but its dry and deadpan delivery will have you smirking from beginning to end.
This coming-of-age story about Welsh schoolboy Oliver Tate (Roberts) comes from the Wes Anderson school of film. Set in the 80s, it has a timeless retro feel as Oliver narrates the story of his life in Swansea where he lives with his parents Jill (Hawkins) and Lloyd (Taylor). Oliver (who describes his life as if it's a film) initially presents himself as quite pompous, with a heightened view of himself as more intelligent and better read than those around him. The truth is somewhat different, he's introverted and unpopular, lacking in social skills and without any real experience with girls.
It's this tension that's the charm of this quirky film. The more Oliver tells his version of his story and the more we understand what's really going on, the more likeable he becomes.
He's chivalrous as he stands up for his classmate Jordana (Yasmin Paige), a mild pyromaniac he's infatuated with, and yet the rest of his courtship is one of hits and misses. This doesn't stop Oliver from having the confidence to assist his own parents' love life, writing passionate love letters to his mother on behalf of his father.
Jordana and Oliver are well suited to each other - both are complicated characters and outsiders with big issues dominating their lives. Jordana's mother is seriously ill and Oliver is concerned about the safety of his parents' marriage now his mother's ex, new-age evangelist Graham (Paddy Considine), has moved in next door. Both of these characters provide an honest glimpse into the teenage mind.
Ayoade (writer, director and actor of comedies such as The Mighty Boosh, and The IT Crowd) stamps his mark with his very deliberate and ironic deadpan style. At times it's a little too cool, too contrived, and too cold emotionally, but thanks to an excellent cast and a sharp and witty script Submarine is still a very sweet, affecting and fun film.
Stars: 3.5/5
Cast: Sally Hawkins, Craig Roberts, Noah Taylor
Director: Richard Ayoade
Running time: 97 mins
Rating: M (offensive language and sexual themes)
Verdict: Stylish, fun debut from rising British film-maker
-TimeOut