Rating: * * *
Verdict: Meticulous chiller.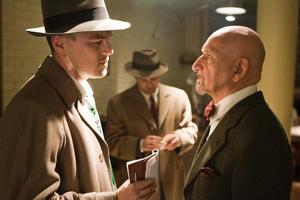 An adaptation of a novel by Dennis Lehane, whose Mystic River was the source of a fine Clint Eastwood film, this equally star-studded movie was developed as a project for shockster David Fincher with Brad Pitt in the lead role. But it ended up in the hands of Scorsese who, for his fourth fiction feature in a row, cast DiCaprio.
That long history probably explains why it doesn't feel much like a Scorsese film - except to the extent that it's plainly the work of a film buff. It feels too long, which is a Scorsese trademark, but the single setting and the linear story keep it tight and clammy, something of a relief after the hopelessly overblown The Departed.
Stylistically, it's a pastiche of the classic melodramas of the 1950s, when it's set: the mostly muted palette, cheesy back projection, deliberately clunky editing and plodding expository dialogue in the early scenes. But the script, rigorously faithful to Lehane's convoluted plot, maintains momentum admirably and the neatly ambiguous ending is welcome.
DiCaprio plays Teddy Daniels, a federal marshal who has come to a secure psychiatric hospital on the titular island to investigate the disappearance of one of the patients. He hasn't met his sidekick, Chuck (Ruffalo), before they board the ferry, and the scene where they surrender their firearms contains, for the observant, a clue that this may be significant.
The island personnel - played by a star-studded cast - will provide Daniels with a lot more clues to spot as he tries to solve a mystery in which nothing and nobody are what they seem. "You're not investigating anything," he'll be told at one point. "You're a rat in a maze."
It's a meticulously assembled piece of work, one of those films in which, tantalisingly, apparent non sequiturs or continuity blunders all fall into place with hindsight. We are encouraged to realise how comprehensively we've been duped - and then we're tempted to wonder whether the con game is over yet.
In that regard, it's fortunate that Scorsese's craftsmanship, not Fincher's showmanship, was preferred. It's not his best film by any means, but it's a gripping thriller.
Cast: Leonardo DiCaprio, Mark Ruffalo, Ben Kingsley, Emily Mortimer, Michelle Williams, Max von Sydow, Patricia Clarkson Director: Martin Scorsese
Running time: 138 mins
Rating: R16 (violence, offensive language, content that may disturb