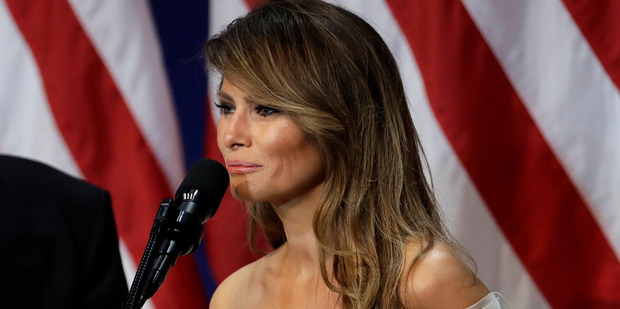 Vanity Fair Mexico is facing a backlash after featuring a bejewelled Melania Trump on its latest front cover, just as her husband sparked a diplomatic crisis with the country by ordering the construction of a wall along America's southern border.
The photo, which was recycled from GQ's April 2016 issue, shows the glamorous first lady posing with a fork and strings of jewels in a bowl like spaghetti, a jarring image for a country where almost half the population live in poverty.
"Melania Trump, on February cover," the magazine said on Twitter on Thursday. "A report that reveals the past of this intriguing first lady."
In the worst timing of all editorial history, #MelaniaTrump takes the cover of this month's Vanity Fair- Mexico.

January 27, 2017
The tweet appeared on the same day the White House suggested the US would make Mexico pay for the controversial wall, which Donald Trump ordered be built a day before, by imposing a 20pc tax on all Mexican imports.
In response to the president's actions, Enrique Pena Nieto, the Mexican leader, cancelled a trip to Washington that was planned for Tuesday.
"It's a lack of sensitivity on the part of the publisher," said Guadalupe Loaeza, a Mexican author and columnist, according to the Guardian. "I started reading this and I couldn't finish. I didn't want to know anything about the wife of our country's No 1 enemy."
Social media users also weighed in, either mocking or criticising the editorial judgment of the magazine.
"Total lack of sensitivity," one Twitter user said in Spanish. Another called it the "worst timing in all editorial history".
No, esta no es una historia de adulación. Les invitamos a leer el adelanto de este reportaje sobre Melania Trump. https://t.co/xduTFkMyBl

— Vanity Fair México (@VanityFairMX) January 26, 2017
Responding to the criticism, Vanity Fair Mexico issued a statement distancing itself from "offensive messages" published on social media.
"We understand the complicated moment that has coincided with the appearance of our cover, but our intention is simply to contribute, as always, an independent and critical point of view about current affairs and the people involved."
Earlier it tweeted: "No, this is not a story of flattery. We invite you to read the preview of this report on Melania Trump."
Has anyone looked at the really poor numbers of @VanityFair Magazine. Way down, big trouble, dead! Graydon Carter, no talent, will be out!

— Donald J. Trump (@realDonaldTrump) December 15, 2016
Mr Trump, himself, has been critical of Vanity Fair and has been particularly scathing of the editor Graydon Carter over the years.
The most recent outburst came last month when the then president-elect tweeted: "Has anyone looked at the really poor numbers of @VanityFair Magazine. Way down, big trouble, dead! Graydon Carter, no talent, will be out!"
This article was originally published by The Daily Telegraph.