1 Melford Street, St Mary's Bay.
SIZE:
Land 377sq m, house 251sq m (including semi-enclosed rear porch).
PRICE INDICATION:
CV $1.6 million. Auction September 27.
INSPECT:
Sunday 12-12.30pm or by appointment.
SCHOOL ZONES:
Ponsonby Primary, Ponsonby Intermediate, Auckland Girls Grammar, Western Springs College.
CONTACT:
Jan George, ph 0274 784 119, or Aaron Haabjoern, ph 021 469 226, Ray White Ponsonby.
FEATURES:
Meticulous villa, renovated and extended by architect owner (Christian Anderson Architects). Bleached American oak flooring, Elba marble vanities and work surfaces, covered outdoor living porch above a suntrap garden. Wide views of Westhaven Marina. *One off-street car park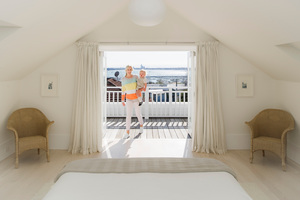 Finding this much-loved villa, which had been in the hands of its previous owners for nearly 30 years in one of St Marys Bay's prettiest streets, was a coup for Rebecca and Christian Anderson.
The fact that it was in sound but tired condition was the icing on the cake because, as an architect, Christian wanted nothing more than a project to get his teeth into while at the same time creating a home for himself, Rebecca and their growing family.
"We'd been looking in this area for some time for something that we could do an upgrade on. This was sound, obviously well cared for, but I could instantly see how I could reconfigure the interior to improve the room layout and the orientation to the sun and the views."
The results of Christian's reworking are impressive, perhaps more so because they so emphatically retain the essence of the original villa while not compromising on the must-haves of 21st-century living: good aesthetics, layout and flow, both internally between spaces and to a liveable space outdoors.
The original roof line when viewed from the street remains virtually undisturbed, with only a small window giving away that something has been changed.
That something is a stunning master-bedroom suite.
Lots of windows look out to a little deck with great views of Westhaven Marina and the harbour. Behind the bed, the stairs are covered and designed to look like a bed head. There is also an impressive en suite.
Sliding doors to this area, "which we never close", enhance the sensation of light and freshness in the whole lovely space.
Down below, Christian relocated the living areas from the dark, easterly side of the central hall to the sunny west. The formal living room has ended up where a bedroom once was and links through high doors to the wide spaces of the casual open-plan living area, which in turn embraces the northerly rear of the house.
Here, skylights to the east and west allow a gracefully symmetrical interplay between the light coming from this high angle and what floods in from the sliding-glass rear wall, which is all that separates the indoors from the outdoors.
This series of sliders can slide and park in either direction and, when fully open, the covered external living porch and this interior locus are one.
With two young children, the couple are "asleep at 7.30pm", laughs Christian, but this is a party space fit for the grandest of entertaining.
Original window joinery was refurbished and retained where possible, as were doors and smaller features. Everything, new and old, is painted white to blend with the solid bleached American oak floors, white Elba marble work tops in the kitchen, laundry and bathrooms, and white-painted shiplapped exterior. Christian admits he loves the freshness a white interior brings, while Rebecca just feels the feeling of light and space are "simply wonderful to come home to".
"No matter how tired I am, when I walk in I feel my spirits lifting when I walk towards the light that leads me to the rear of the house," she says. "The children and I spend most of our time out on the deck. It's so completely sheltered and yet the views are so wide."
The Andersons are moving on after little more than a year in their lovely renovation. Rebecca admits she feels sad about going but also excited about the new place they have just bought in nearby Herne Bay.
"This is beautiful in every way but the new place has extra space, and with the arrival of Henry six weeks ago we really need it."