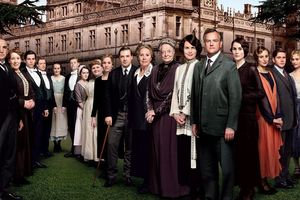 Downton Abbey's fourth season is out now on DVD, and we've got five copies to give away!
Set in 1922, the fourth season sees the return of our much loved characters in the sumptuous setting of Downton Abbey.
As they face new challenges, the Crawley family and the servants who work for them remain inseparably interlinked.
Six months after Matthew's tragic death, his loss is still felt throughout the great house. Mary struggles to face a new future with her fatherless child and is encouraged by the family to pick up the pieces.
Accepting a new role on the estate, the now eligible Mary also finds herself the reluctant object of attention from a number of eager suitors.
With the '20s in full swing and the tides of change sweeping through Downton, Rose's continued attraction to the bright lights of London spells trouble for the Crawleys, and Edith's budding relationship with Gregson is threatened by events beyond her control.
Meanwhile, below stairs, passions run high and young hearts look set to be broken.
To win a copy, fill out the form below: