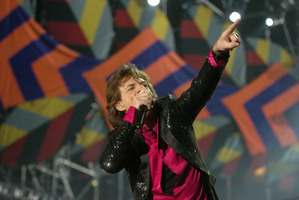 The Rolling Stones will be heading back to New Zealand in the New Year.
The band have been confirmed to play in South Australia at the opening of the new Adelaide Oval on Saturday March 22 with a promise of an announcement of more shows on both sides of the Tasman soon.
Representatives for Frontier Touring in New Zealand said: "One New Zealand show will be announced in the next few weeks".
The Stones last played at Auckland's Western Springs and Wellington's Westpac Stadium in 2006.
It's likely a single show would head to Auckland - either back at Western Springs where they first performed in 1973 or possibly Mt Smart Stadium where Frontier Touring has Bruce Springsteen and the E Street band playing two nights at the beginning of March.
The band celebrated their 50th anniversary in 2013 with shows on either side of the Atlantic, headlining Britain's Glastonbury Festival and performing to a crowd of 65,000 in
London's Hyde Park.
Frontman Mick Jagger turned 70 this year and guitarist Keith Richards is due to follow suit next month.
Richards was last in Auckland for cranial surgery and treatment after suffering a head injury when he fell out of a tree while in holiday in Fiji after the band's 2006 New Zealand shows.
Mick Taylor, who was a guitarist in the band between 1969 and 1974 and performed
with them at Western Springs in 1973, is being billed as a "special guest" for the Adelaide concert having played some of the 50th anniversary shows earlier this year.