Aaron Paul's time on Breaking Bad is coming to an end, with only five more episodes remaining of what some have called the greatest TV drama ever.
Last night's episode Confessions saw Paul's character Jesse Pinkman unfurling into a guilt-crazed whirlwind, seemingly intent on self-destructing in a blaze of frustration.
But Paul's early audition tape, recently posted on Reddit, shows the first glimmers of an oblivious and bright-eyed Jesse as he meets with chemistry teacher Walter White.
Wearing shoulder-length hair, a denim jacket and some fingerless gloves, Paul certainly looks the part of the young meth dealer - but it's his line delivery that seals the deal.
Even at an early stage, Breaking Bad's dark humour is evident in the script, and it's clear that Paul picks up on it in the perfect way in the scene, which sees Walter convincing Jesse to team up with him to make meth.
"You are not how I remember from class, like not at all," Aaron points out disbelievingly, inspiring chuckles from others in the room.
But it's not all smooth sailing: At one point, Paul forgets a line of dialogue and curses lightly as the woman reading opposite him jogs his memory.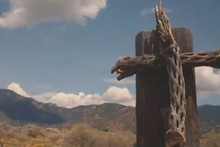 "Some straight like you with a giant stick up his ass, all of a sudden age, what, 50? You're just gonna break bad?" he says, delivering the full line (from which the show gets its title) correctly.
There are also lines that seem ironic in hindsight, considering how White's simple meth operation has spiraled out of control over a year's time.
"If you've gone crazy, or depressed, uhm, I'm just saying - you know, that's something I need to know about. Uh, that affects me," Aaron says (if only he knew what's to come).
Paul's stilted pauses in the reel would go on to become a signature vocal styling for the character, who has become a fan favourite.
But many viewers would be surprised to know that showrunner Vince Gilligan planned to kill off Jesse in a botched drug deal at the end of the first season.
It's a good thing he changed his mind - the character has become a complex, critical part of the story arc, and Paul's performances have garnered him two Emmy awards for best supporting actor, with another nomination for 2013 pending.
- Daily Mail