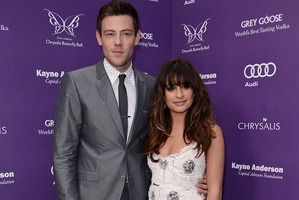 Cory Monteith said he was "really happy" in the last interview before his death.
The Glee star expressed his excitement about returning for the show's fifth season ahead of his untimely passing aged 31 in his hotel room in Vancouver on Saturday.
Posing alongside long-term girlfriend Lea Michele at the Chrysalis Ball on June 8, the interview marked Cory's first red carpet appearance following a stint in rehab for substance abuse.
He told E! News: "I'm just happy to be on the show, I'm really, really happy to be coming back. It's really good."
When asked about plans for a summer holiday with his girlfriend he replied: "I'm not sure yet, we're playing it by ear."
The star was speaking at a charity event to help aid homeless and low-income individuals gain employment.
He said: "It's not just a handout. It's empowerment. It's taking people who just need a help up. Not a handout. A help up. It's helping people do what they already can do."
Lea looked at Cory and gushed over her on and off-screen boyfriend.
She said: "I think he looks great, doesn't he? He's the best."
The interview follows reports the actor led a double life, with sources saying the Glee cast in Los Angeles spent a lot of time keeping Cory sober but when he returned to his hometown of Vancouver in Canada "alcohol and drugs were always involved" and his drive to stay clean withered.
Police have refused to say whether drug paraphernalia had been found in his room but are not looking for any one else in connection with his death. Medical examiners are due to conduct an autopsy later today.
- Bang! Showbiz