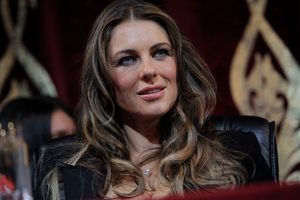 He is the strongman leader of Chechnya, a ruthless former rebel fighter with strict Muslim habits and a passion for powerful cars and weapons.
She is a glamorous British actress, known for her revealing dresses and lightweight comedy.
They seem unlikely candidates for friendship, but yesterday Ramzan Kadyrov and Elizabeth Hurley appeared to be bonding over a white kitten.
Kadyrov posted pictures of the Bedazzled and Austin Powers star on his Instagram account after she arrived in Chechnya to begin filming a thriller with French actor Gerard Depardieu.
Less than a decade ago, Grozny, the capital, lay in ruins, pulverised by years of fighting. Yesterday it was briefly transformed into a film set as Depardieu and Hurley swept into town to start work on Turquoise, about a French art thief and his Russian old flame.
Half of the film will be shot in the Chechen capital which has been rebuilt under Kadyrov, the Muslim region's provocative pro-Moscow leader.
Hilary Swank, the last foreign actress to visit Kadyrov - for a gala dinner - ended up issuing a public apology and sacking her manager after a rights group criticised her for hobnobbing with him.
Tanya Lokshina, of Human Rights Watch, said: "I can't dictate to Mr Depardieu and Miss Hurley whom they should meet with, but I hope they are not taking money from a person who is accused of involvement in egregious human rights violations."