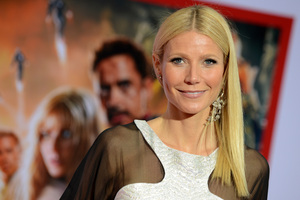 Gwyneth Paltrow feels guilty for being a working mum.
The Iron Man 3 actress has kids Apple, eight and Moses, seven, with husband Chris Martin and admits her career is a constant source of guilt.
She said: "I feel guilty all the time! But they are my priority.
"I only do one movie a year now and I look for something that's not going to take me away. And it's really more like I'll miss them too much."
Gwyneth also revealed becoming a mother changed her life forever.
She said: "When I met my daughter I was looked into her eyes and I was like, 'What was I doing until this moment?' It changed my life forever.
"It changed the way I saw myself, the way I saw my own mother, it changed the way that I wanted to live for the rest of my life."
While she is a busy working mom, there is nothing the actress loves more than spending time with her kids.
She added in an interview with People magazine: "Moses likes me to lie down with him until he goes to sleep.
"He's so cuddly right now and last night he put his head on me and put his leg over my body and I'm like, 'I'm in heaven'."
- BANG Showbiz