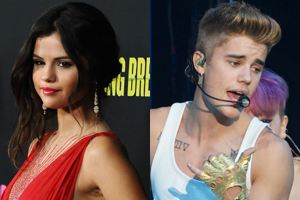 Justin Bieber and Selena Gomez have reportedly agreed to "stop talking s**t" about each other in public.
The 'Beauty and the Beat' singer was seen at his ex-girlfriend's home yesterday and it is now being claimed they met with the aim being more mature about their break-up.
An insider told HollywoodLife.com: "They talked about and agreed that they should stop talking s**t about each other in public and on Twitter.
"They feel that it is best to be more adult about their breakup in the future."
Justin, 19, was spotted arriving at the 'Spring Breakers' star's Los Angeles home with a security team and driver, although they reportedly waited outside while the couple discussed their two-year romance which ended in January.
The singer's mother, Pattie Mallette, recently revealed she still speaks to his ex-girlfriend too, but has no intention of dictating how he should handle the situation.
She said: "[Selena's] a sweetheart. I'll always love and respect her. Whatever Justin chooses, obviously, it's his life.
"I've talked to her [since the break-up] ... Of course I pray for [Justin] and I encourage him. I can't really speak to how he handles that part of his life."
- BANG Showbiz