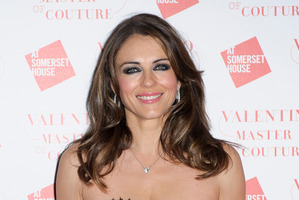 British actress Liz Hurley has had an ugly run-in with a journalist as she and fiance Shane Warne departed Perth following the Melbourne Stars' thrilling loss to the Perth Scorchers in the Big Bash League.
Hurley was accompanying Warne at Perth airport yesterday when an accidental tangle with Network Ten journalist Caty Price prompted a verbal spat with the 47-year-old model and actress.
"He [Warne] was pretty tight-lipped coming in, and did not say much, and then Liz clipped the back of my heels, and said 'Don't you know it is rude to stand in front of people', which is fair enough," Price told Fairfax radio.
"Then I asked her what she thought of the game last night, she spun around on her heels, and mouthed close up to my face 'I think you should f*** off'.
"She has done another spin, flick of the hair and strutted off with Shane."
The exchange was captured on camera and is set to hand Warne more drama after an eventful end to an already controversial summer.
Following the loss at the WACA Ground, Warne is facing another one-match ban for an alleged breach of Cricket Australia's spirit of the game law in regards to a slow over rate.
- AAP