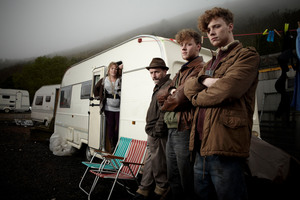 Belfast-born film-maker Terry George, whose illustrious list of credits includes writing the Guildford Four drama In the Name of the Father and directing Hotel Rwanda, is back in his hometown but not at home in this forgettable comedy.
The likeable but characterless Fraser plays Joe Maguire, an American of Irish stock who, fleeing an improbably possessive girlfriend, fetches up in Belfast where he is babysitting a relative's antique shop and romancing gorgeous refugee Sophie (DaCosta). Meanwhile, Jimbo (McCann) owes money to local gangster Mad Dog Flynn (O'Hara) who is, also improbably, threatening to steal Jimbo's child because he (Mad Dog) can't impregnate his missus.
Jimbo's unhinged escape plan is a robbery (of a fish shop, on Friday, which you might expect to be a lucrative proposition in Catholic Belfast), but it turns pear-shaped and he ends up barricaded with various bystanders in Joe's shop, to which both police and Mad Dog lay separate siege.
Just when you think it can't get sillier than this, the man from the Ministry of Defence (a nice cameo from Hollander) turns up, jumpy about the international implications.
George makes a decent fist of the story's caper elements but the comedy-thriller is an unforgiving genre and he doesn't really carry it off. The script is cluttered to bursting point with subplots and underdeveloped characters. And the look of the film is drab and dim - though that may have been a problem with the projection at the preview screening at the notoriously variable Rialto in Newmarket. An unmemorable, undemanding and occasionally amusing watch.
Stars: 2.5/5
Cast: Brendan Fraser, Colm Meaney, Martin McCann, Yaya DaCosta, Tom Hollander
Director: Terry George
Running time: 89 mins
Rating: M (violence, offensive language)
Verdict: Disappointing comedy drama
- TimeOut