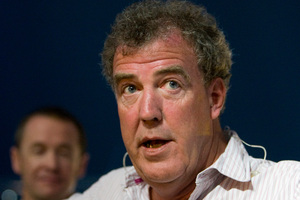 Jeremy Clarkson of Top Gear. Photo / File
Auckland in the first weeks of January is always the best.
The streets are quite quiet, the parking is easy and the much-maligned southern motorway becomes your own personal slot-car track. I'm not ashamed to say that I f***ing love the motorway. It's time that we Aucklanders embraced it rather than constantly and mindlessly insulting our much more useful version of the pyramids.
Too bad if your favourite takeaway bar or swanky eatery is still shut, the beach is waiting, and, if you've managed to keep paying the ever ballooning Sky bills there may even be a few episodes of Boardwalk Empire in the PVR. Thank god for small mercies. If you're stuck with free-to-air you have either given up and rediscovered reading or you may well be able to recite lines from Border Security like Sam Hunt belting out some Byron, such is the show's ubiquity in the 7pm slot.
Thursday will bring you some relief with more Embarrassing Bodies (8.30pm TV2) and Kitchen Nightmares (9.30pm TV2), Night at the Classic (10pm TV1), and by Monday it's business as usual with the return of the soaps, the comedies the police procedurals and The Crowd Goes Wild - which is kind of a mix of all three.
No doubt the recent cricket woes will be raked over forensically and someone may even be blamed for the carnage after some intense questioning.
For those of you with SKY, and with SOHO, next week marks the beginning of Banshee, Alan Ball's (6 Feet Under, Trueblood) new series staring our very own star, Antony Starr, of Outrageous Fortune fame. Ball is one of the great TV makers of our times so I'm pretty excited about this addition to my weekly TV diet. Initial reviews are thin on the ground but Entertainment Weekly reckons "Despite the somewhat strained setup, Banshee is a kick: ultraviolent, over-the-top, and wickedly fun."
That 'setup' involves Starr's character, "the most notorious thief in the country", taking the identity of a dead sheriff in the Pennsylvania town of the title. That's the part of the states where the Amish community live, allowing for the inevitable trailer imagery of bright orange prison overalls against black horse drawn Amish-mobiles.
Even better news is that Girls season 2 starts on Thursday the 17th (Soho 8.30pm). Lena Dunham's comedy was one of the very best shows of 2012 and the difficult second series will be closely watched by all to see if the lightning will strike again. Not since Woody Allen and Seinfeld has neurotic nothingness been so entertaining. The trailer for the series hints that the girls are slightly older and messier, but, as the Hollywood Reporter reports, things have moved on somewhat: "Season two starts with a pretty big - and unexplained - jump. Hannah is now dating a handsome black Republican named Sandy (Donald Glover), Marnie's life is turned upside down, Jessa's blind love for Thomas-John seems more like a long con than real love, and Shoshanna is in tumult with the cynical and crusty Ray."
That had me a little worried that Hannah's awesome boyfriend Adam wouldn't return, but fear not, he's back too.
I know that looking back on 2012 has now worn out it's welcome, but if you are looking for DVDs for the remainder of the holidays I would point you towards series one and two of BOSS, in which Kelsey Grammer plays the Caligula-like mayor of Chicago. Like Girls, and Game of Thrones, it remains one of the lingering TV memories of the old year and confirmation that the Soho channel was indeed worth the extra dosh. But the best thing I've seen lately wasn't on Sky or even TV, it was via YouTube.
For delicious, politically-insightful and hilarious musing on 2012 - and let this be the final word on the matter - I submit that you would very much enjoy British satirist Charlie Brooker's annual caustic celebration of the year in TV, Wipe 2012. Not only do you get to piss yourself at the expense of Voice star Seal, at approximately 6min30 seconds into this wonderful programme, but there's also a great gag at the expense of Top Gear's Jeremy Clarkson that uses our brilliant SPCA driving dogs campaign. If you're at work reading this then dig in. It might be the most fun you have at your desk all year, and if you pick the right day, your boss should be stuck in a horrible line of traffic somewhere on the glorious motorway.