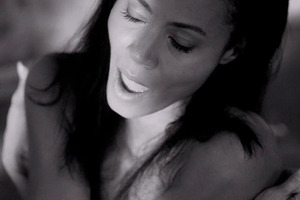 Jada Pinkett Smith didn't think twice when pal Salma Hayek asked her to strip for a hard-hitting new music video - because she trusts and adores the Mexican actress.
The actress sings and writhes around naked in an empty room for the promo accompanying Spanish language track Nada Se Compara, which was filmed to raise awareness about the horror of human trafficking for the Don't Sell Bodies campaign.
And when Hayek suggested her pal should bare all for the shoot, Pinkett Smith agreed.
"I can't tell you how many times I've been asked to take my clothes off, but Salma asked me once, and it's done," she told More magazine.
"It's not even a question. That goes to show you how much I trust and adore her.
"She said, 'I need you to be courageous! This is the power they try to steal from us - you must show it!' Her passion is just contagious ... Every time I'm with her, she has something to offer me'."
Pinkett Smith recorded Nada Se Compara with her band Wicked Evolution.
Watch the video here (warning: explicit content).
- WENN