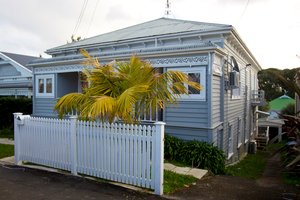 Celebrity mum and former crafts columnist Sally Ridge has taken possession of a $1.6 million boarding house and is flat out applying her interior design skills.
Ridge, 40, was guarded about her intentions for the Herne Bay property but confirmed she had bought the former 13-bedroom boarding house and was "doing it up as I would normally do".
The renovations may take a backward step this week however. Yesterday, Ridge tweeted: "Broken toe 2 stitches ... not a great way 2 start a weekend :-/"
The two-storey house is on a 518sq m section and has tenants on the lower level. Ridge has been renovating upstairs.
Her administrative manager, Daniel - who wouldn't give his full name - confirmed Ridge was his new landlady. "She's a very nice lady," he said.
The downstairs level has seven bedrooms plus a shared bathroom/kitchen and was tenanted by students and others.
It is understood the renovations will not feature prominently on Ridge's proposed fly-on-the-wall style television series as TV3 has already committed heavy resources to The Block.
Real estate agent Grant Tucker said he wasn't sure if the property would be converted back into one dwelling.
"But there is some fairly major renovation going on upstairs at the moment though - a complete refit, painting and wallpapering, that sort of thing." Tucker estimated Ridge was spending about $100,000 on the renovations but the property could provide good returns. "At one stage it was earning $3000 a week as a full rental, upstairs and downstairs. At the moment I think it is earning $1500 a week for the downstairs."
TV3 publicist Rachel Lorimer said there was still no date set for screening Ridge's TV series.
"We are still filming with Sally and Jaime Ridge, but do not have any announcement yet on the proposed series." She would not discuss who had paid for the house.
Meanwhile, lawyers acting for Ridge and ex-husband Adam Parore were at a closed hearing in the High Court at Auckland on Friday over an assets dispute. Ridge's lawyer Daniel Grove said: "I am not prepared to talk about this. It is subject to a court suppression."