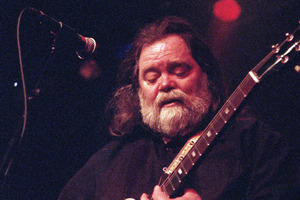 Let's face it - when you go to most live concerts, you know pretty much what you're in for. There are few real surprises. But there was a strange sense of anticipation and apprehension at The Powerstation on the night that Roky Erickson, formerly of the pioneering Texas-based band The 13th Floor Elevators, was due to perform. After all, this is a man who reportedly dropped acid over 300 times, was diagnosed as a schizophrenic, was subjected to electro-shock therapy when locked away in a hospital for the criminally insane and then spent a good portion of the 80s and 90s collecting and collating his neighbour's junk mail.
Now, after a decade of rehabilitation and healing, he's back making music. So, while some of the crowd were there to pay homage to Roky's musical contributions, others, no doubt, just wanted to see what would happen once he took the stage. In a nation notorious for its rubbernecking, this show could have rated right up there as a spectacular train wreck.
After local band Shaft turned in an energetic, if overly-loud set, a six-piece band made their way on to the stage, led by a frontman who bore a slight resemblance to Jack White. As it turned out, it was Roky's son, Jegar, backed by the band that would also accompany his father. It soon became clear the Jegar inherited his dad's formidable voice, though the audience, in the mood to rock, didn't respond to Jegar's quieter side.
Jegar and the band left, and then returned a short time later with Roky taking centre stage. There he was, 64 years old, with long, greying hair and beard, a bit of a gut and a guitar strapped on. The band laid into a Bo Diddley groove to warm things up while Roky tentatively played along and sang a few, mostly inaudible lyrics.
The audience held its collective breath, before Cold Night For Alligators kicked in and Roky was off and running. His voice sounded strong, even if he did look to be a bit bewildered.
Aside from Goodbye Sweet Dreams, the set focussed on Roky's prime 70s output - primitive, three-chord rock & roll songs like The Interpreter, Bermuda, Don't Slander Me and the glorious Two-Headed Dog. The band sounded like they were still rehearsing, but perhaps that's the result of working with Roky, who looked as if he might go off on some musical tangent at any moment.
Although Roky never spoke to the crowd, he did play a few solos and he wrapped up the hour-long set with a couple of Elevators' classics, Reverberation and You're Gonna Miss Me.
Fans were expecting an encore, but none was forthcoming. It was an uneven ending to a show that it seemed almost impossible to think took place at all. Who would have thought that they could have seen Roky Erickson performing in Auckland, New Zealand in 2012? The idea is almost as mind-bending as the Elevators' music.
Who: Roky Erickson
Where: Powerstation, Auckland
When: Wednesday 7 March