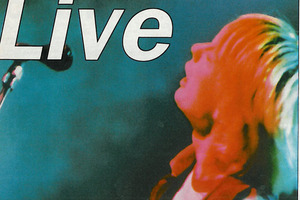 I thought I was going mad. Memory says I saw Radiohead at The Powerstation in June 1994, some website says it was the Auckland Town Hall. Eh? I've got damned vivid memories of watching Thom doing some Jesus Christ pose from the balcony as Andrew Moore offhandedly dismissed them in my left ear: "Small Faces wannabes..." Either way, it had been a week early happy birthday to me. And why not?
I'd just been made redundant from my brain-numbing job at the old Auckland Area Health Board - best thing Helen Clark ever did for me, cheers Helen. And in my book, rock'n'roll was always better medicine than laughter. Not always as good as proper medicine mind, like I wouldn't prescribe it to someone whose head had dropped off, but a bit of mindless jumping about has never done me any harm. Which, as we did back then, was how the night began.
I had a mate who lived behind Al & Pete's in Newmarket. It was our launching pad of choice whenever a big night beckoned. And we had it down pat. Oil slicks posing as cheeseburgers washed down with beer, rum, Bad Brains and Motörhead as we jumped up and down on his couch, then off we'd jet.
There must have been a support band - being big on local sounds at the time, we would most definitely have seen them - but God knows who it was.
Anyway, if any band could have claimed to possess the alt-zeitgeist of the time, it was Radiohead. Creep had been one of those rare songs that gave you an instant clip round the ears. Then Iron Lung came along and I was an obsessive teenager all over again.
So yes, I was excited.
I guess the thing is that back then they were a rock'n'roll band, pure and simple. No bleeps, androids or smart-arse marketing, just guitars, bung eyes and a contrary attitude. They dropped Creep four or so songs in which pretty much told you all you needed to know about their attitude toward stardom and catering to the fans. But still, that voice was in full-effect, the crunching guitar was present and correct, and they played what they wanted to play.
Now, I'm not saying it was best gig I've ever seen (at the bloody Powerstation, I don't care what the web says) - that'll always be Fugazi's first visit, but hey, I'm just happy to say I saw Radiohead before they got all-important.
Who: Radiohead
Where: The Powerstation, Auckland
When: Wednesday 22 June 1994
*Radiohead play Vector Arena in Auckland on Tuesday 6 November.