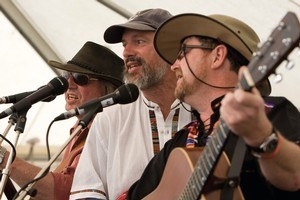 Auckland bluegrass quartet Wires & Wood have been awarded the Best Folk Album Tui (New Zealand Music Award) for Over The Moon.
The announcement was made at the Auckland Folk Festival at the weekend.
Several Tuis are handed out separately from the main awards ceremony in October, including awards for jazz, country and Pacific music.
Over The Moon is the debut album from the band, who formed in 2003, comprising of lead vocalist Micheal Young (mandolin), backing vocalists Bryan Christianson (banjo), Dave Warren (guitar) and Read Hudson who plays resonator guitar.
"Music can be about trying new things and challenging yourself, not only in what you play but also what you listen to and enjoy," said awards spokesperson Campbell Smith.
"Wires & Wood has certainly captured that spirit with a powerful album that clearly demonstrates the band's dedication to the genre and excellence in its execution."
Recent previous winners of the Best Folk Album Tui
2005 Lorina Harding Clean Break
2006 Ben the Hoose (Kenny Ritch and Bob McNeill) The Little Cascade
2007 Phil Garland Southern Odyssey
2008 Delgirl Two, Maybe Three, Days Ride
2009 Chris Prowse Trouble On The Waterfront