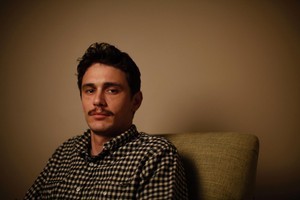 For an actor who has always shied away from the spotlight, James Franco is in danger of becoming ubiquitous.
In the next two months he has two films out, as well as a collection of short stories. He's nominated in one major awards ceremony and will host another. If you miss him on the cover of the United States edition of GQ, which proclaims him Man of the Year, you can catch him suited-and-booted as the new face of Gucci.
All of which seems strange for a 32-year-old actor who shrank from Hollywood after the extreme exposure of playing Peter Parker's pal Harry in Sam Raimi's Spider-Man trilogy.
Four years ago, Franco went back to school, enrolling in literature and creative-writing courses at UCLA a decade after he'd dropped out there. He enjoyed it so much he moved to New York and took on four separate courses - two in fiction writing, one in poetry, one in film-making - in as many colleges. He's now at Yale studying for a PhD in English and film.
"For me, school is very grounding. It's a way of ... getting away from stuff like this," he says, referring to the tedious business of film promotion.
Franco is certainly a strange beast; as one interviewer wrote, his career is looking increasingly like a performance piece "as he slides further along the continuum from [Jake] Gyllenhaal to [Andy] Warhol".
Last year he enjoyed a brief stint on US soap General Hospital, playing an obnoxious multi-media artist named - wait for it - Franco. This year he will host the Oscars with Anne Hathaway.
To be fair, Franco has a talent for comedy, as his stoner in Pineapple Express and his low-rent criminal in Date Night have shown. Still, it's hard to imagine how the awkward interviewee sitting in front of me will follow in the footsteps of comics such as Billy Crystal.
Franco is not good with eye contact, while his sentences - often prefixed with "Let's see" - um and ah all over the place. Given that he's up for a Golden Globe for his role in Danny Boyle's new film, 127 Hours, there's also a chance he could be one of the five best actor Oscar nominees.
While he twice hosted Saturday Night Live, Franco says he was surprised when the Oscars' producer, Bruce Cohen, called. He refused but then reconsidered, against the advice of all his representatives.
"That always sparks something in me. So I said, 'Yes, of course!' Because the reaction that they have is based on conventional wisdom of what makes a good career. And that can be boring."
As he told Entertainment Weekly, he doesn't care if he bombs. "I'm happy to take the criticism. Even if it's 'The Worst Oscars Ever', I don't care."
Franco is no stranger to bad reviews, certainly when it comes to his fiction writing. When his story, Just Before the Black, was published in Esquire, one writer tweeted: "Franco makes Ethan Hawke seem like Herman Melville."
His new book, Palo Alto, is a collection of short stories. Each story is set in the California university town where he grew up and is driven by a series of teenage narrators. The LA Times called it "the work of an ambitious young man who clearly loves to read, who has a good eye for detail but who has spent way too much time on style and virtually none on substance".
Violence is frequent and shocking. Chinatown in Three Parts details the degradation of a half-Vietnamese girl whose new boyfriend rapes her with some root vegetables during an orgy, before pimping her out.
Yet this should be no surprise to anyone who has seen Franco's short film, The Feast of Stephen - one of several he's made - which features a fantasy scene where teenage boys gang-rape another boy. Perhaps because he's soon to play Allen Ginsberg in Howl, a film that deals with the obscenity trial around the Beat poet's most famous work, Franco seems embarrassed to talk about his literary achievements.
As Danny Boyle notes, "I spent all this time working with him and he never told me he'd written this book."
Then again, their time on 127 Hours was intense. Franco plays the real-life climber Aron Ralston, who in 2003 got trapped in a Utah canyon for five days after a rock fell on his arm. With no way of being rescued, he finds it within himself to sever his limb with a blunt penknife. With minor characters only seen at the beginning and end, Franco is forced to hold the screen on his own for more than an hour - a remarkable achievement and perhaps another example of his love of performance art.
Franco admits he went a little stir-crazy on the warehouse-based studio set, locked into one position for more than four weeks. "A friend of mine from NYU [where Franco studied film-making] came out and made a documentary and we just recently watched what she put together. There's a part in it where Danny is asking me how I'm doing. And I'm like, 'I think I lost it yesterday.' ... That documentary showed me it was taking a toll."
But there's a masochistic streak to Franco. In 2002, a year after he won a Golden Globe for his breakthrough portrayal of James Dean in a TNT bio, he went all Method. He starred opposite Robert De Niro in the woeful City by the Sea, preparing for his role as a drug addict by hanging out with users and sleeping rough.
It's hardly the path his father, Douglas, who runs a shipping container company, must've envisaged for his son when he encouraged an interest in mathematics. As an adolescent, Franco was an obedient prodigy, even interning at tech company Lockheed Martin. But art was as important as academia in the Franco family. His mother, Betsy Lou, is a poet, author, and editor and her mother the owner of a prominent Cleveland art gallery.
While acting came later - after dropping out of UCLA he was cast in the short-lived cult show Freaks and Geeks - the process eventually became frustrating. "I had to come to an understanding that my job as an actor was to help a director achieve his or her vision, and that's it."
Certainly, this explains why Franco has become a multimedia multi-tasker. But he now seems to be enjoying acting. Later this year, you'll see him in his first post-Spider-Man blockbuster, the Planet of the Apes prequel, Rise of the Apes. He'll also appear in medieval comedy Your Highness, with Natalie Portman. Of course, the surge of activity has prompted some critics to ask if Franco is "for real".
Maybe he'll slow down or even burn out. But, to quote his character in General Hospital, "I'm not like everyone else - remember that."
- INDEPENDENT
127 Hours opens on February 10.