Sydney Opera House became the Oprah House yesterday as the US superstar staged shows at the landmark. Entertainment writer Jacqueline Smith joined the 6000 people who won tickets.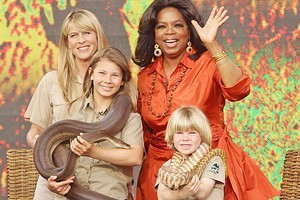 Run with military precision, with five media helicopters hovering overhead, and at least 10 people adjusting the star's dress and make-up between takes, the show was larger than life.
I'm usually at work when Oprah Winfrey gives stuff away on telly.
Not yesterday. I was sitting beside Sydney's harbour watching her stride across the stage in a ball gown the colour of the Outback. I was one of 6000 people singing and whooping to Bon Jovi. I was welling up with Terry Irwin and the kids' tribute to Steve Irwin.
I was laughing along to Russell Crowe and gushing at Jay-Z. I may have even joined the chant: "Oprah, Oprah, Oprah, oi, oi, oi ...".
What? Well, everyone else was.
About 350,000 Australians applied for tickets to one of her two Ultimate Australian Adventure shows held at the Sydney Opera House yesterday. The city's signature building was renamed the Oprah House for the occasion and the harbour bridge lit up with a big red O at night.
Sydney turned fanatical, but by crikey, plenty of naysayers thought the whole thing was a joke. They may claim to be reaping more than $20 million in revenue because of it, but Australia put up $5 million to host Oprah and her 302 "ultimate fans".
The streets were full of Oprah fanatics, many times more in number than the 6000 fans who had won tickets.
Five Filipino immigrants from the Hunter Valley had dressed up to the nines, made a packed lunch and left home at 4am, driven two hours and waited on the other side of the barricade outside the Opera House for a chance to catch a glimpse of their heroine. They weren't going to flag the show just because they hadn't won tickets.
I met another bunch of Oprah followers in their pyjamas when a fire alarm sounded at The Menzies hotel at 6.30am.
Never mind the bed hair, most were freaking out about leaving their Oprah tickets in their rooms and that they were losing their place in the queue for her 10am show.
I saw one of them after the show, and while she couldn't see any of the stage from her seat, she excitedly replayed the moment she shook Oprah's hand before the star was whisked away in her big black Mercedes. She didn't want to wash it.
When I saw Oprah step out of that same big black Mercedes less than 2m from my nose and slip behind a gauze to head backstage before the show, I too came down with fan fever.
There, so close I could almost touch her, was the woman who had smiled at me from books and magazine covers for as long as I could remember.
It was at that point that I understood why people were hyperventilating in front of cameras on the TV news and had travelled from as far as Uluru and Perth to be there when she graced the stage.
They were rewarded with tears, a dance party, individual goodie bags that included a precious pearl necklace and of course plenty of advertising for Tourism Australia.
Like Jay-Z's autobiography, Bindi Irwin's new books, and Bon Jovi's greatest hits album, all of which were promoted on the show, Australian tourism will reap the benefits of being named an Oprah "favourite".
Meanwhile, a young Aussie family struggling to hold itself together as the father battles cancer will benefit from the $250,000 cheque Oprah decided to present them when they came on stage, and a secondary school in South Sydney will get $1 million of technology thanks to Oprah whispering in some important ears.
Jay-Z even turned up at the school for a surprise visit. That had the audience dabbing tears from behind their sunglasses.
Addressing her devotees when the cameras stopped rolling, Oprah called her Australian experience "heaven sent".
Every day she and her team in Chicago try to pull together shows that speak to people, shows that don't waste their viewers' time.
Finding out just how much her show resonates with people on the other side of the world was, she said, the greatest reward of her life.
"We are going to go home and hug our families," she said.
And no doubt when I flew home to Auckland last night, that's what 6000 people were doing in their Australian homes.
After all, hugs are one of Oprah's favourite things.
*Oprah screens weekdays at 2pm on TV3 and the final of the 24th season screens on the 17th. These Australian special episodes will screen in the new year.