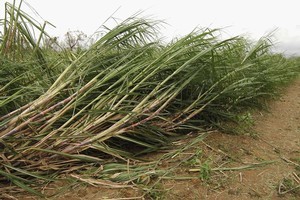 World sugar output will probably fall short of demand after Cyclone Yasi smashed Queensland crops, driving prices to a 30-year high, says Rabobank.
The region grows a third of the country's cane and output potential in the area was cut by about 50 per cent, producers group Canegrowers said.
The storm, which the Government says may have wiped out at least A$500 million ($658 million) of agricultural production, raised speculation that the world's third-largest sugar exporter may struggle to match last year's output; the lowest in two decades.
"The whole house was shaking and vibrating," said Gerry Borgna, 53, whose family has supplied cane to a mill at Tully for 90 years.
"We could hear things flying past and we thought it was part of the house."
At the farm, power lines lay across the road and cane was pushed over. "To me, this is a disaster," Borgna said.
Raw sugar prices soared to US36c (46c) for 450g on ICE Futures US in New York last Wednesday, the highest level since 1980, closing at A32.64c on Friday.
"On a global basis we thought we would have a slim stock build this year and it is likely that we are going to end up with another deficit," Rabobank Australia commodities analyst Wayne Gordon said.
Australian sugar output may be 3.5 million tonnes from the June to December harvest this year, compared with 3.6 million tonnes from the previous crop, and down from expectations of 4.2 million to 4.3 million tonnes, according to Rabobank.
Flooding and heavy rain before the cyclone reduced estimates by about 500,000 tonnes and Yasi probably cut the outlook by a further 300,000 tonnes, Gordon said.
Output may be 3.8 million tonnes next season, ANZ said last week, while Commonwealth Bank of Australia commodity strategist Luke Mathews said the crop may be 3.6 million tonnes.
"It may well be that the production we saw last year might be repeated," said John King, chief executive officer of Tully Sugar, referring to national raw sugar output.
"You would like to think we can better that still, but a lot depends on the growing conditions in the next months."
The closely held company is the target of a takeover bid from Bunge.
C. Czarnikow Sugar Futures said last month that world production may exceed demand by a small amount in 2011-2012, but the fragile balance would be vulnerable to weather-related risks.
The market will stay in deficit in 2010-2011, it said.
The International Sugar Organisation lowered its estimate in November for a global surplus to 1.3 million tonnes in 2010-2011 from 2.7 million tonnes in August after drought and floods damaged fields in Brazil, Russia, Pakistan and Australia.
"Based on what we're seeing in the meantime, there's every reason that our surplus will remain very small," said Lindsay Jolly, a senior economist at the ISO.
"It may disappear."
The destruction from Yasi added to rain and flooding that left 35 people dead and disrupted coal mining. The nation, facing a bill that economists say may reach $20 billion after two months of floods, will need to make budget cuts after the cyclone exacerbated damage, Prime Minister Julia Gillard said on Channel Ten's Meet the Press programme.
Yasi also slammed into a banana-growing region representing about 85 per cent of Australian production.
Woolworths raised its prices for the fruit on Friday and warned the damage would severely affect availability and prices in coming months.
"The region impacted by the cyclone contributes around A$1 billion of agricultural production annually, and initial reports suggest at least half of that has been wiped out this year, including around 80 per cent of the state's banana crop," Treasurer Wayne Swan said yesterday.
The national cane crush last year was about 27 million tonnes compared with a usual level of more than 32 million tonnes, said Brisbane-based Canegrowers in December. The area north of Townsville typically crushes 10 million tonnes, the group said.
Tully may process about 1.4 million to 1.5 million tonnes of cane this year, compared with 1.8 million tonnes last season when the harvest was halted because of the weather, and down from a pre-cyclone estimate for 2011 of 1.8 million to 2 million tonnes, King said.
Output would likely be curbed again next year because of the lingering effect on crops, he said.
At King's farm two cooling towers were blown to the ground, some sheeting was gone from the roof, a garage was swept away and 35 houses owned by the company had some form of damage, he said.
The Red Cross is using a mill meeting-hall to provide emergency assistance to residents. Many have stayed in partly wrecked homes with no electricity.
The company has until the crushing season starts in June to complete repairs.
SWEET AND SOUR
Going Up
* Sugar prices - up to US36c (46c) per pound (450g), the highest level since 1980.
Going Down
* Australian sugar production - 700,000 tonnes short of forecasts.
- BLOOMBERG