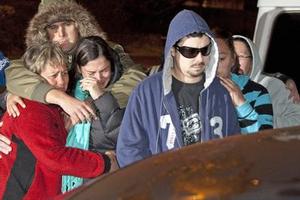 Family and friends of Tisha Lowry cried and hugged as they watched her body being carried last night from the property that has become known as the "house of horrors".
The remains - buried beneath the Christchurch house next to the body of a woman who lived there - have not yet been formally identified as those of Ms Lowry, 28, who went missing almost a year ago.
But the emotional scenes among those gathered outside the house - some performing a haka to honour her as the body was loaded into a hearse and driven away - showed the family believed it was their loved one.
Among those standing in the icy cold were Ms Lowry's mother, Tanya Lowry, who was embraced by relatives as tears streamed down her face.
One woman shouted and banged her hands on the hearse as it carried the body away, and afterwards people spoke of wanting to see the house burn to the ground.
The second body, that of a 35-year-old woman, was taken from the property on Sunday. Her husband is charged with her murder and is to appear in court again on Friday.
He has not been charged with any offence in relation to Ms Lowry, but police say further charges will be considered once they have finished their investigations.
Detective Inspector Tom Fitzgerald would not reveal the results of an autopsy on the woman who lived at the house, in the suburb of Wainoni.
He said it would be a few days before the body believed to be that of Ms Lowry was formally identified.
Police had found no other items of interest, but they would be digging under the house all week.
Mr Fitzgerald said police were not expecting to find further bodies buried at the property, "but we're only in the early stages of getting into that scene. The priority was getting those bodies out."
Bunches of flowers, cards, a soft toy and a pair of angel figurines were left outside the house, where wood is piled up in the front yard as the building is partially torn apart to be examined.
Dozens of Wainoni residents gathered outside the house last night to catch a glimpse of the body being driven away.
- ADDITIONAL REPORTING: NZPA