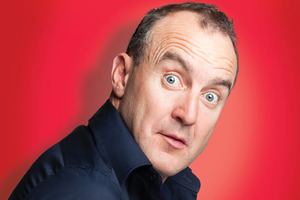 What sort of voice should we read your answers in?
Mine. That is, a very sexy Irish accent.
Are you worried about how you'll come across in print?
Text is my forte. I shine in it above all else.
Describe your show in 10 words or less:
Very funny. No very and funny don't do it justice.
Is there somewhere we can see your work online? If not, why?
YouTube, RedTube and PornHub.
What does your mum think of what you do?
The stuff on YouTube she is happy enough with. We don't talk about the rest.
Eight minutes into your show, all going well, what should be happening?
People are normally slapping each other by then. But in a good way. Knees and that.
Where are you usually when ideas or jokes come to you?
In bed or on the toilet. Two very inspirational places for me.
What's more important to have as a comedian, youth or wisdom? Discuss.
Wisdom for sure. If it was music then it would be the other way round but comedy has a long use-by date on the comedian.
Who's your comedy hero, and why?
I have no heroes in comedy. Some of them I think are all right and have a few good jokes but I have a healthy disrespect for all of them.
WHAT?!
Where and when: SkyCity Theatre, May 14-18
- TimeOut