The New Zealand International Comedy Festival begins this weekend bringing local and international comic heroes to our stages. Here, Jesse Griffin talks about his forthcoming shows.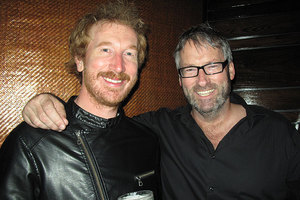 Describe your show in 10 words or less: Being lost in a blizzard of comedy snowflakes, and finding a salad
Will we have heard any of the jokes before? Probably not, unless you've been standing outside my office listening to me talk to myself.
Give us your best sales pitch. Why should we go to your show instead of saving our money for a big night out when Flight of the Conchords play in July? Well...you're too late - they sold out in under three seconds. You'll probably end up at my show.
What is your pre-show ritual? Usual stuff - drinking lambs blood and throwing virgins into volcanoes - or the other way around. Depends how I'm feeling.
Is dying on stage a rite of passage for a comedian or something to be avoided at all costs? Failure is inevitable and must be embraced as much as success. Also: wax on, wax off.
Are members of the audience fair game? Or should they be treated with respect at all times? Respect and contempt in equal measure - like any good marriage
If you were a super hero who would you be? Salad Man.
For those of you who don't have a musical aspect to your show ... how do you compete with all those clever dicks offering the double whammy of musical comedy? It's not a competition - its art and human expression and stuff. Any anyway, what's a whammy?
Who will you be heading along to see during the festival? Steve Hughes and Urzila Carlson. Maybe Wilson Dixon too, I've heard he's hilarious.
Who: Jesse Griffin
In: No Movement In The Waiting Room
Where and when: The Classic Studio, 8.45pm, April 28, and May 1-5
- TimeOut