The New Zealand International Comedy Festival begins this weekend bringing local and international comic heroes to our stages. Here, Chris Cox talks about his forthcoming shows.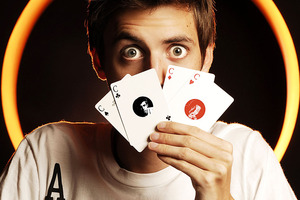 Describe your show in 10 words or less: Mind-Reading, Magic, LOLZ, Love, Narrative, Wow, OMG, I Love Cox.
Will we have heard any of the jokes before? That depends. Did you see the show during its sell out five-star run at the Edinburgh Festival last year? Or maybe you came to my award winning UK Tour. If you did, then yes it's possible. If you didn't then HELL NO. This is a completely new show.
So, why should we go to your show instead of saving our money for Flight of the Conchords in July? I've spent 27 hours on a plane to bring the show to you, it seems only fair you sit for an hour and watch me tit around on stage pretending to read minds.
What is your pre-show ritual? I have a lucozade in the UK, but if I remember rightly you don't have them in NZ so I have to replace it with a Gatorade, I also have a banana. I do some vocal warm ups, a few stretches, and then do a stupid dance in the wings during the opening video.
Is dying on stage a rite of passage for a comedian or something to be avoided at all costs? If you don't die, you'll never get better or develop the resilience and confidence which you need to own an audience's attention. It also can mean you're not trying hard enough.
Are members of the audience fair game? Or should they be treated with respect at all times? Both. I have to credit my audience with a lot of intelligence as I know they are sat there trying to work out what I do, I also have to respect them as they are really the stars of my show. Everything, every single trick involves them - so I need them onside.
If you were a superhero who would you be? I kind of am a superhero. I just don't wear the lyrca outfit. At least not in public. I have superpowers I suppose. I can read minds after all. Or at least make you think I can.
For those of you who don't have a musical aspect to your show ... how do you compete with all those clever dicks offering the double whammy of musical comedy? Simple. Replace music with magic. Boom. Job done.
Who will you be heading along to see during the festival? The Axis Of Awesome, Fan Fiction Comedy and The Boy With Tape On His Face.
Who: Chris Cox
From: Britain
In: Fatal Distraction
Where and when: Rangatira at Q, April 30 to May 5
- TimeOut