Lydia Jenkin says we need a new tune to soundtrack the America's Cup.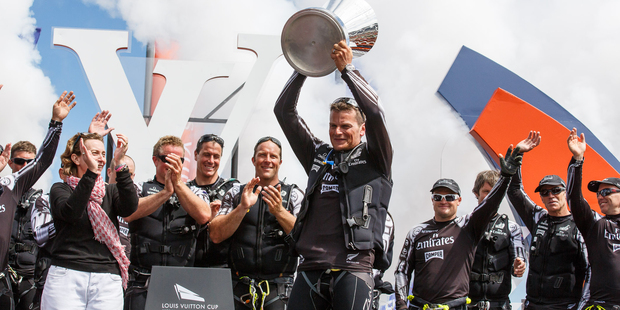 I'm a touch on the young side to accurately remember Sailing Away, the song written for Team New Zealand at the 1987 America's Cup, but a quick look at the music video got me up to speed.
It was an anthem written by All of Us - the name they gave the collective of 30 local personalities who put their best voice forward to the tune of Pokarekare Ana - with lyrics reworked to extol the joys of sailing, and support the boys on KZ7.
It was like our competitive yachting version of We Are the World.
"Here we come and we are sailing, here we come, we're on our way. In a boat just called New Zealand, where together that's our way," sing Dave Dobbyn, Billy T James and Tim Finn to kick off the song.
"One people on the water, one people on the land, it's New Zealand all together, Kiwis working hand in hand," - that's where Bunny Walter, Barry Crump, and Annie Crummer come in.
"Sailing away, sailing away, New Zealand can do it, take it away."
So delightfully patriotic and team-spirited, even in its cheesiness. And it spent nine weeks at No. 1 in the New Zealand chart in 1986.
Unfortunately it didn't help us win the Cup that year and, to be honest, anyone who's been watching the Louis Vuitton series in recent weeks will understand that the gentle sway and melodicism of the song doesn't really fit any more.
This year's regatta is all about extreme speeds and slick, dark, futuristic styling. They're like water-based hovercraft crossed with fighter jets.
So we need a new tune to help blast Team NZ to victory when they begin racing for the America's Cup on Sunday morning, and I've been doing some brainstorming.
It needs a bit of pace, something that reflects the lightning speeds these boats are travelling at, their nail-bitingly precarious nature, but also the grandeur of their dimensions.
Extreme sports videos often favour electronic or dubstep tracks - they've got the right ability to build intensity and sound a little bit edgy. So perhaps Shapeshifter could be a good candidate. I don't know how to convert boat speeds of 45 knots into beats per minute, but I'm sure Shapeshifter would be in the ballpark with their drum 'n' bass, plus they've got that futuristic sheen and a strong sense of patriotism. They seem to have dominated the festival circuit with tunes like Electric Dream, so perhaps that would help Team New Zealand dominate the race circuit?
Then again, maybe we need a track like Shihad's Home Again - something to tell the boys where we'd like that Cup to be? Or maybe the boys from the Wellington Sea Shanty Society could provide the right vibe. They recently released Now That's What I Call Sea Shanties Volume 1, so there's a few choice numbers about life at sea to choose from. Though they might be better for the drink-fuelled, post-match function.
I guess we need another tailor-made song, written specially for the occasion. And for that there's really only one act that springs to mind.
They've united our country over national issues before and they always make everyone feel very patriotic. And, of course, they know how to ring in a few friends. I nominate Flight of the Conchords for the job. Ask some kids a few questions about what they think of the AC72 and what our tactics for winning should be, and they'll be halfway there.
But wait, hold the record button, I've just noted that there were no songs involved in the 2000 or 1995 campaigns - the years we've actually won the Cup. Maybe we should just leave the music out all together.
Anyone got any red socks?
Follow @nzherald_ent on Twitter for all the latest entertainment news.
- TimeOut