The Durapanel 90 Mile Beach Snapper Bonanza kicked off on Tuesday with the biggest turnout yet in the competition's seven-year history.
This year's event began in relatively mild conditions, albeit one of the coolest mornings of the year so far, with a record 832 tickets sold to date, and the anglers fishing over a daunting 3.5m high tide off a waning full moon at 11am.
However, the fishing wasn't so good, with only 101 fish caught.
The heaviest snapper of the day was reeled in by Izaak Crook, the 5.95kg snapper earning the Hamilton angler a cool $2000 as day one's heaviest fish.
It was Mr Crook's second year fishing the event. The fish hadn't been bettered by edition time yesterday.
He noted he did "not too bad" in what proved a prolific year for catching fish at the 2016 event.
"Came in with 18 snapper, biggest was 5.1kg" but never made the prize pool.
"That was then, this is now ..."
Mr Crook said he caught day one's winning fish "right by the boundary marker" using squid and anchovies as bait. He also voiced the general opinion the fishing was challenging.
"Pretty slow, tough conditions, big current running through," he said.
While prepared for someone else to land a bigger fish sometime over the remaining four days, Mr Crook wasn't totally dismissing his chances of claiming the main prize by the end of the week, the heaviest snapper overall, worth a cool $30,000.
"Not too much stress," he said, adding the forecast was in his favour to some extent.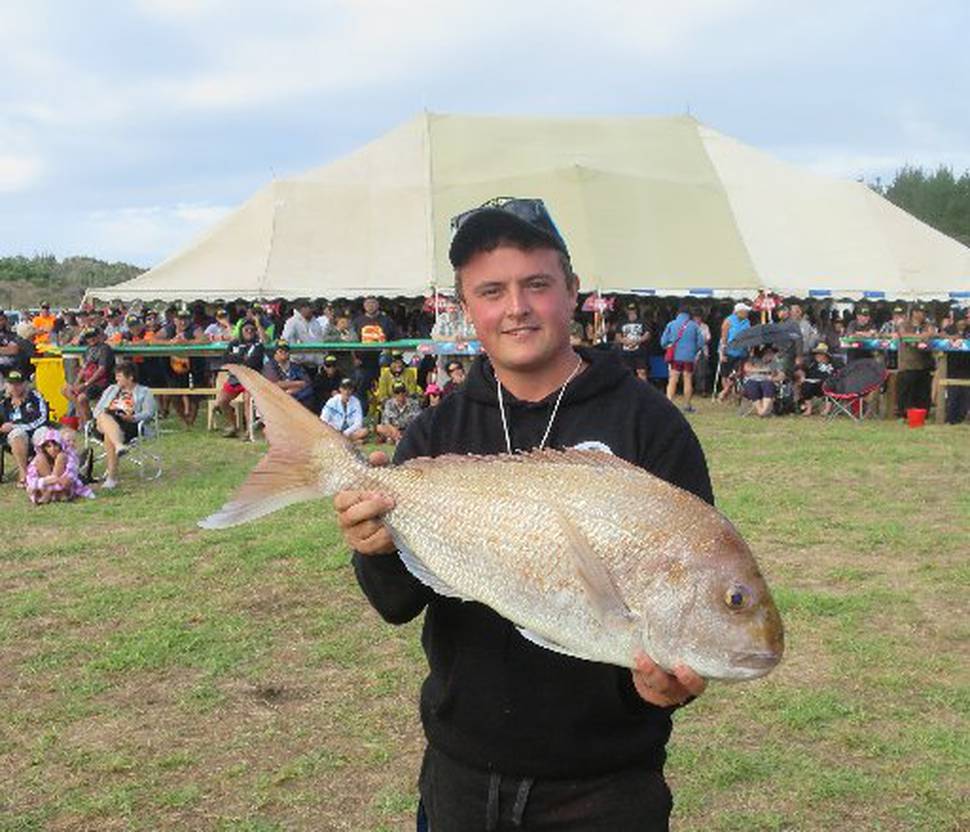 "Conditions are going to get pretty bad. Big wind coming through, lots of wind. I spoke to the winner from last year, James Benge, he said, 'You could be in luck'."
Snapper Bonanza spokesman Dave Collard told the surfcasters at Tuesday's prizegiving the forecast for day two was a 1.4m swell and onshore winds from 8-15knots, and reminded all to take care out there.
The fish weighed in during the week will be auctioned off at the Kaitaia market on Saturday from 8.30am.