The art of brewing certainly has no risk of being forgotten in Stratford, with beers produced by craft brewery Forgotten 43 Brewing gaining a cult following since they started selling from their store on Broadway in November last year.
Less than a year since the brewery started trading, its beers are stocked in a range of locations around Taranaki bottled or on tap.
"We're certainly pleased with how well the business has taken off since we first opened the doors."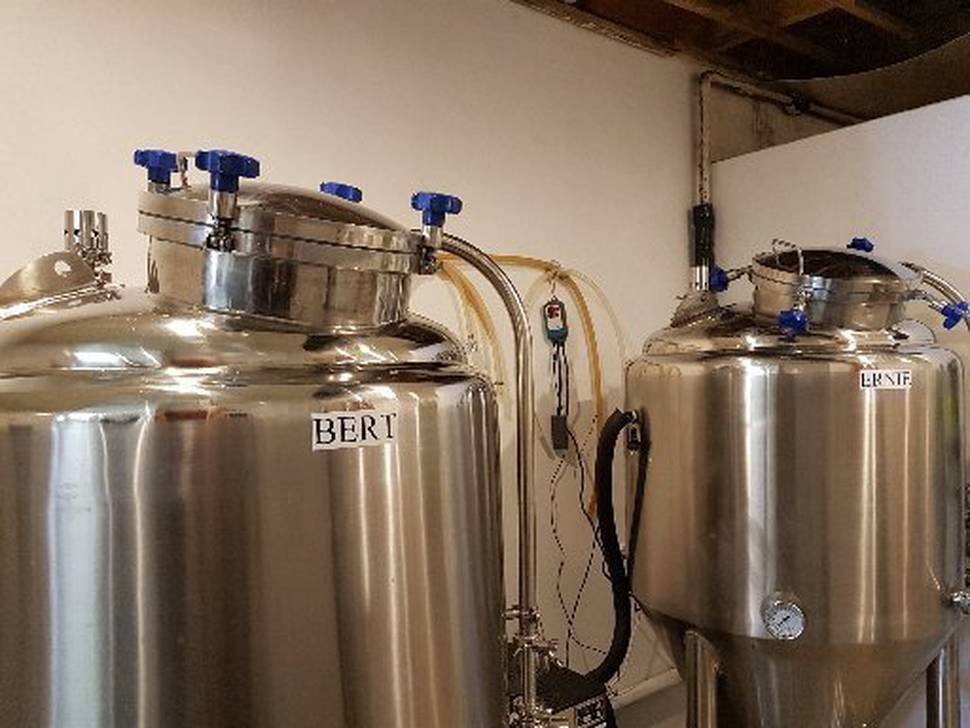 Linnea Robinson, one of the four owners of the business, says they feel Stratford has supported them from the start.
"We have lots of regulars now and I think people are pleased to have a craft brewery in town, we certainly get good support."
Linnea and her husband Caleb, along with friends Mike and Anita Selby, decided to go into business together after plenty of experimentation with brewing at home.
"It's something we've done for a while, and it felt the time was right to actually turn it into a business, offering people some local, boutique beers that represented our region and the history of the early settlers."
The name itself, says Linnea, was an easy choice for the four.
"We all wanted something to reflect the work of the early settlers, who are responsible for shaping our piece of New Zealand into what it is today. That pioneering story of their work and their efforts."
That pioneering spirit, says Mike, they hope is also reflected in their brewery.
"We are always experimenting with flavour combinations, seeing how we can develop the flavours in each brew to tell its own story so to speak."
Each beer, be it pilsner, porter, pale ale or some other type, is carefully crafted and tasted by the team until they are all happy with it.
"If we aren't 100 per cent happy with a brew, then it doesn't get sold," says Caleb.
Once they are happy with it, they then choose a name for it. Mike says there is a story behind each beer, which is reflected in the name.
"Patea clear is a crisp pilsner named for the local river, for example, while our American pale ale is called Lost Track to represent those early pioneers who created tracks in the bush out back."
The team of four are involved in every step of their brewing process, which takes place in the back of the craft brewery shopfront with fermenters named after Sesame Street characters.
"We have Bert and Ernie, the two 350 litre fermenters, as well as Big Bird, a 700 litre one which can do a double batch."
Another part of the process, the bright tank, is named Beaker, after a Muppets character.
From the moment the hops is delivered, the team are hard at work, mashing, boiling and fermenting, and of course, tasting, before the beer is ready to be carbonated and bottled.
The bottles are made from recycled glass and sold in cardboard boxes which can be reused.
The attention to being environmentally friendly doesn't end there, with very little going to waste in the brewing process.
Some of the spent grain left over from the brewing process ends up as crackers made by Linnea and served as a snack when people are tasting the brews on offer, while the balance goes to the local pig farm.
"I can only make so many crackers in a week, so the rest of the spent grain goes to pigs, my chickens, sheep, even our dog loves it!"
Anita says they plan to continue developing new beers as well as their current range of regular brews as the brewery continues to develop and grow thanks to the great support from customers.
With their customer base growing rapidly giving a clear indication of the popularity of their beers, it is surprising to learn they are all self taught in the art of brewing.
"The brewing community in New Zealand is really supportive, so we have been able to learn as we go," says Linnea.
Talk to any of the team and they certainly have learned plenty already, all as knowledgeable about the brewing process as they are about the history of the area their brewery is named for.
The shopfront is designed to reflect the pioneering history as well with a bar bench milled out of old man pine from Tututawa and various old farm and logging tools dotted around.
"We want people to come in and get a sense of the history of the area, and understand the stories we are telling through the different brews," says Linnea.
¦ Forgotten 43 Brewing is on Broadway, Stratford. Open Thursdays noon-6pm and Saturdays 10am-1pm.