Geoff Gwyn does not want farmers affected by Mycoplasma bovis to suffer in silence.
The Ministry for Primary Industries' Director of Response for M. bovis gave The Country's Jamie Mackay an update on the cattle disease and encouraged farmers to speak up.
So far the response has been progressing well and "is in a good space," says Gwyn. "The numbers aren't moving around a great deal which I think is encouraging."
However, spring milk test results are looming which will be a "significant moment," for MPI.
"Ultimately once it's complete around November we'll know whether there's any undetected clusters of farms out there."
Another concern is that now is the time of year when dairy farmers start to bring on service bulls and some are worried that these animals may be from a farm infected with Mycoplasma bovis.
"We're comfortable we've got the properties of risk locked down," says Gwyn, "So I would say it's normal farmer risk management practices. Understand the origin of the animal, understand the health status of the herd it came from and it's good practice to separate the animal for seven days to access its health status before you mingle it with any other animals."
Gwyn says one thing that farmers should be practising is speaking up about any issues or complaints with MPI's Mycoplasma bovis response.
"That's the way you get the best feedback ... we won't shy away from the commentary, in fact I encourage it because it's people's critique of you that actually gets you to improve. We're dealing with people's lives so we can always be better."
"My greatest fear and the thing that keeps me awake at nights is those silent sufferers out there. Those people that might be under our regulatory control and for all our best intentions we really don't know how well they're faring ... believe me I worry a fair bit about the impact we have on people's lives."
Mycoplasma bovis numbers
Nationally, the number of 'active' infected properties as at September 7 is 37.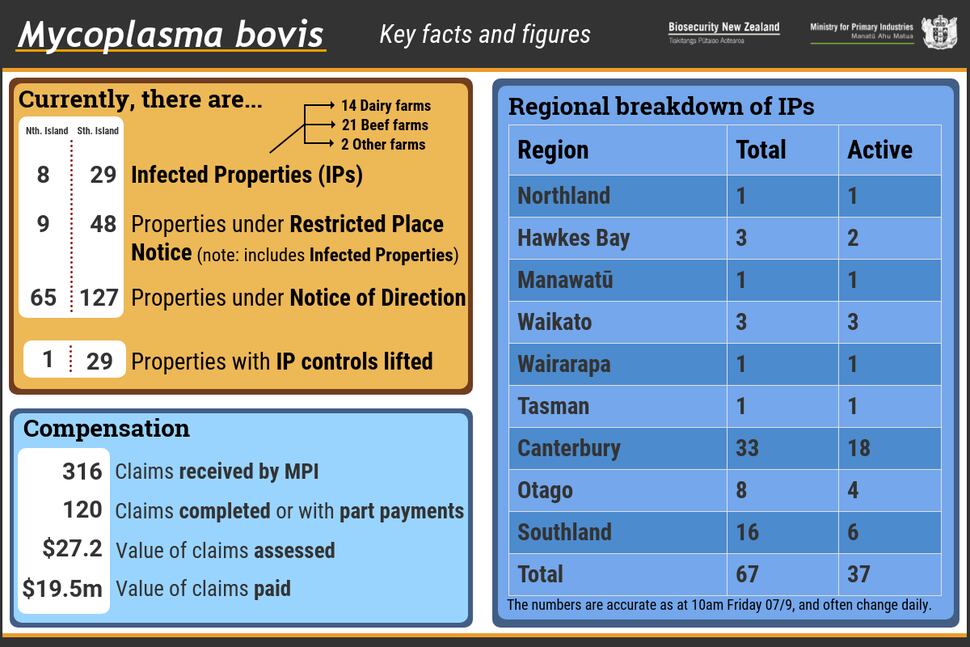 All active infected properties are under quarantine controls. These controls restrict the movement of stock and equipment on and off those farms to contain the disease. Active infected properties have yet to be depopulated, cleaned, and have their restrictions lifted.