Police are now compiling a national database of beehives to help combat hive thefts.
"Police are very concerned about the rising number of reported beehive thefts across New Zealand as this crime is costing apiarists millions of dollars each year," Whanganui detective Karl Reyland said.
"We are working with a number of partner agencies, such as Apiculture NZ and the Ministry of Primary Industries, to reduce the occurrence of beehive and honey thefts."
Read more: Beekeepers weigh levies in Central Otago
Whanganui beekeepers turn detective and front up to thieves who stole hives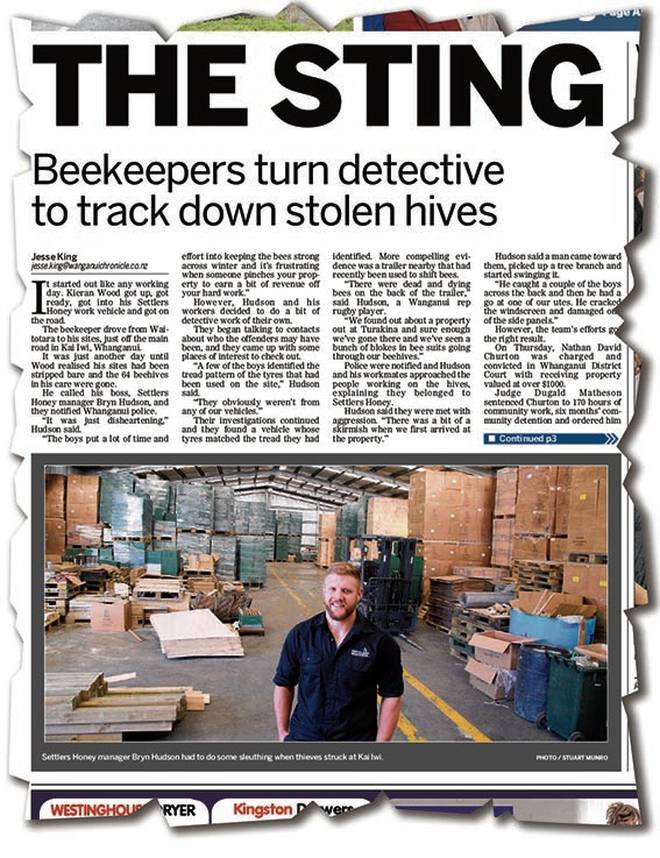 That involved forming close, working relationships with those involved in the industry, who have an in-depth knowledge of the issue and effects of these crimes.
He said the group was working to improve the intelligence on beehives, honey and those stealing them, as well as improving investigative methods.
"A national database is being developed to improve information gathering. Similar databases already exist now in specific areas and allow us to monitor hive movements more proactively."
Reyland said police and local beekeepers were working on traceability initiatives to permanently trace hives and frames.
"Reducing beehive thefts requires help from those within the industry and members of the public. Police ask members of the public to keep us informed and to remain cautious of suspicious behaviour in and around hive areas."
Police had a number of suggestions for apiarists to help ensure the safety of their hives, including using pressure pads, tracking devices, and outdoor surveillance cameras.
The advice follows the successful prosecution last week for theft of 60 hives worth more than $50,000 from a Whanganui honey business.
Reyland said the theft of Settlers Honey beehives would have caused considerable disruption to the business and its owners.