Heavy snow is wreaking havoc across parts of the South Island today. Roads are impassable and there are widespread power cuts.
Overnight snow has fallen to low levels, bringing trees down on power lines and leaving thousands without electricity in and around Arrowtown, Dalefield and the Lower Shotover.
Some schools delayed their start times and air travel out of Queenstown Airport was disrupted.
The council is warning the public to be careful around trees as branches are still coming down and posed a risk.
Snow and flood warnings also remain in place around the lower South Island.
Snow is continuing to fall on the Haast Pass and road maintenance crews are trying to keep the highway open.
Major roads with snow warnings include the Lindis Pass and State Highway 6 from Queenstown to Cromwell and Haast to Wanaka.
Drivers have also been warned to expect flooding between Hawea and Haast on the Otago side of the highway.
Roads at the top of Lake Wakatipu have been blocked by fallen trees that are forming enormous barriers that are expected to take days to clear. They include the only roads to Paradise, Kinloch and the Routeburn track at the top of the lake.
The Queenstown Lakes District Council has posted on Facebook a number of similarly affected roads around the Glenorchy area.
The council this morning tweeted crews had worked overnight to restore electricity but were asking for patience in the trying winter-like conditions.
Delta crews worked through the night to remove snow from overhead power lines and restore power and are continuing repair work today.
A spokesperson for Aurora Energy network said 1800 customers were without power in the Arrowtown, Dalefield, Lower Shotover and Lake Hayes areas, but it should be restored later today.
Power is back on in parts of Glenorchy, the Gibbston Valley and Millbrook.
Motorists were also warned to take care after fallen trees brought down power lines across the region's roads including the state highway between Gibbston and Frankton and around Lake Hayes, Arrowtown and Dalefield.
State Highway 94 from Te Anau to Milford Sound has been closed because of the high risk of avalanches.
Chains are essential on SH8 Omarama to Tarras in Otago, and for the Crown Range. They may also be needed around Arrowtown, Lower Shotover and through to Arthur's Point.

Caution was advised for SH6 Queenstown to Cromwell and SH6 Haast to Wanaka.
MetService tweeted an early morning photo of Queenstown Aiport blanketed in snow.
At least one flight to Auckland was delayed. An airport spokeswoman said the runway was cleared of snow at 7am and planes were able to fly in and out of the airport as scheduled.
The MetService last night issued heavy rain warnings for northern Fiordland, southern Westland, the headwaters of the Otago lakes and rivers, where up to 130mm was expected.
"People are advised that this amount of rain may cause streams and rivers to rise rapidly, slips and surface flooding are possible."
The rain is expected to ease this morning.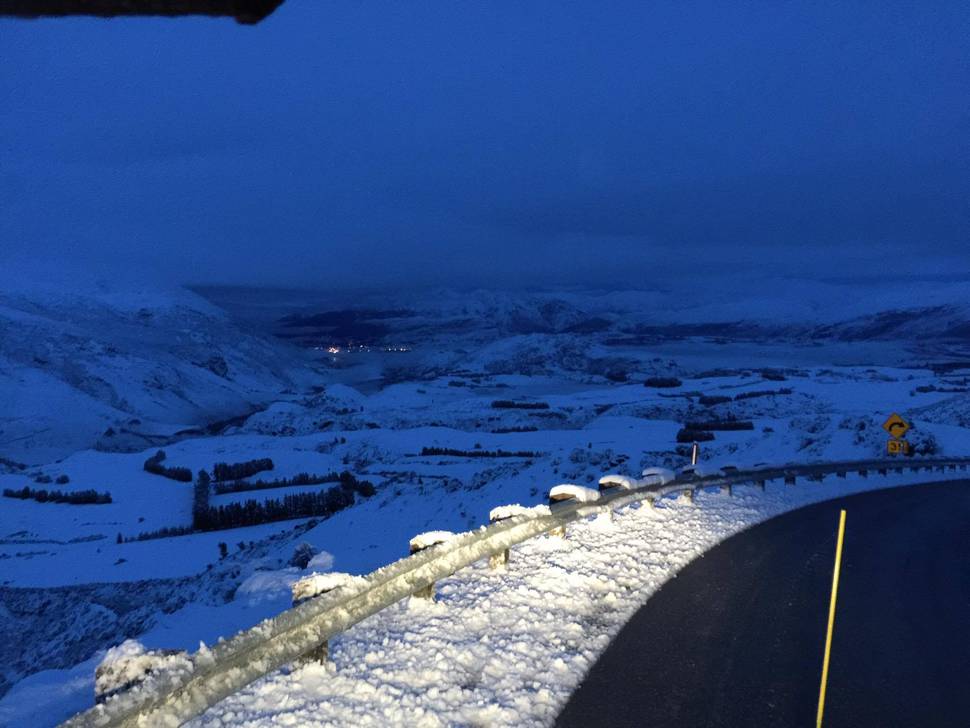 MetService forecaster and meteorologist Andy Downs said the south of the country would see the worst weather this week. Although the heavy rain was not "exceptional'', it could be an issue for those on the roads and around water.
"It's not a very highly populated area, but anyone travelling around down there needs to be aware of that. And of course it's spring and we're starting to get the folk head out down to those mountainous areas - people who like to go tramping," Downs said.
"Obviously for them, they're the ones that really have to take care because with the rising rivers, they just need to heed the warnings and not do anything silly like try to cross swollen rivers."
Additional reporting: Otago Daily Times