The arguments are over and the votes are in - here's the albums TimeOut reviewers consider the year's best. Reviewers: Russell Baillie, Graham Reid, Scott Kara, Jacqueline Smith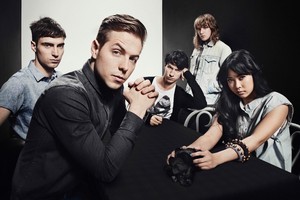 1 - The Naked and Famous - Passive Me, Aggressive You
In the end, why the debut of the Naked and Famous is the best album of the year is down to the group's superb sense of balance.
The Auckland outfit ran a fine line between accessible and edgy with their abundant pop hooks wrapped in sonic squalls of guitars and electronics.
Their guy-gal vocal frontline of Alisa Xayalith and Thom Powers had - if this had been a movie - great screen chemistry. That was whether they were singing sweet nothings, seemingly arguing among themselves or sounding like they were caught in different orbits.
It was a record which balanced great instant anthems like No. 1 single Young Blood with a dozen more tracks, making for a filler-free set.
And an album which suggested its own fractured, haunted world - a pop twilight zone.
Sure, the Naked and Famous' spiky synthesiser figures, robo-rhythms and chant-along choruses suggested that, like other some other local notables, they too were kids of '88.
But Passive Me Aggressive You, also found inspiration in the great dance and industrial music uprisings of the 90s.
It might have had some slight, but intriguing, echoes of other eras, but it was an album that has proved to be not only the best of 2010 but one that is beginning to sound like a timeless classic. (RB)
2 - Black Keys Brothers
Who would have thought that the best old-school soul, R&B and dirty urban blues album could have been made by two white guys from the same town as Devo - Akron, Ohio?
Here was the proof. Brothers was a journey through what sounds like lost B-sides to 50s/60s singles on obscure black labels, nasty bars on Chicago's South Side, eavesdropping in Chess studios where Jack White, Willie Dixon and Keith Richards exchanged riffs ... She's Long Gone and Ten Cent Pistol were timeless, evil and reached back past Led Zeppelin to the originators. Even they probably don't know how great this is. (GR)
3 - Mumford & Sons Sigh No More
This London four-piece walked a fine line between the Fleet Foxes' close harmony, Anglophile folk-rock and the grandeur of Arcade Fire.
There was also an almost archaic, poetic quality to these often chilly lyrics ("As the winter winds litter London with lonely hearts ...") but they delivered a heroic, human optimism in the face of defeat and disappointment. Pop folk-rock with heart and soul. (GR)
4 - Deerhunter Halcyon Digest
Deerhunter's fuzzy and fizzing shoe-gaze drone-pop was leavened by electronica dreamscapes, hypnotic sonic effects, classic references (Basement Scene is solo Lennon/Everly Brothers) and songs so mesmerising you might need someone to snap their fingers to wake you. Exceptional. (GR)
5 - Grayson Gilmour No Constellation
The first album from the rebooted Flying Nun confounded expectations, and not only by sounding like nothing the label had ever done before.
Gilmour - also a member of Wellington synth-rock wonderboys So So Modern - brilliantly mixed youthful enthusiasm with clever-clogs pop-craft on a set of elaborate songs of uniformly lovely tune, shot through with dreamy Beach Boys and Beatles touches. (RB)
6 - Vampire Weekend Contra
In which clever New York varsity boys spent their summer vacation drinking cocktails and studying Paul Simon's Graceland?
Unfair, but not far off the mark. What they also brought to their exotica however was a sharp pop sensibility, self-aware humour and clever lyrics. (GR)
7 - Flying Lotus Cosmogramma
The first part of this sound masochist's third album was torrid listening, yet, there was mastery and genius to his fractured and scuttling beats and pieces.
It felt like a tribe of cockroaches had entered your physical being and dispatched themselves to every recess of your body and soul, but by ... And the World Laughs With You (with Thom Yorke) and the oonst of Do the Astral Plane it settled into an inspired sumptuous groove. (SK)
8 - Die!Die!Die! Form
On their third album the rowdy Dunedin trio stopped being brats and delivered a more melodic record with 10 searingly hot tunes.
Not that they lost any of their fiery and fit-inducing bite, which makes them one of the country's most visceral and unhinged live bands. (SK)
9 - Warpaint The Fool
Four girls, nine tracks, lots of hype. The young Californian group's eerily good debut release was as vaporous as it was earthy, and as brutal as it was romantic.
Wild compositions, whimsical lyrics and a healthy dose of fresh cool factor made this an impressive launch and a complex listening experience. (JS)
10 - Arcade Fire Suburbs
An intelligent and necessary retreat from the glorious bombast of Neon Bible and the better for it.
This integrated song-cycle about suburban life had pop-smarts, melodrama and melancholy, references to the Beatles, REM and new wave, plus great songs. (GR)
11 - Opshop Until the End of Time
The third album from the heartland heroes possibly unnerved those who came to the band via hit ballad One Day.
What with all those buzzy synthesisers, fuzzy guitars and twitchy rhythms to navigate before hitting yet another towering chorus and grand.
But it sounded like their great leap forward and Love Will Always Win was pretty much one of best U2 songs U2 never wrote. (RB)
12 - My Chemical Romance Danger Days: The True Lives of the Fabulous Killjoys
They don't make unashamedly joyous and adventurous rock 'n' roll like this anymore - and that's saying something considering this lot had been lumped with the miserabilist Emo label for much of their career.
Danger Days was a party album, where Glee-meets-Tool and Freddie Mercury-meets-Marc Bolan. (SK)
13 - Kanye West My Beautiful Dark Twisted Fantasy
West pulled together all the best bits of his previous records to make another foul-mouthed, self-gratifying album, but this time his plea for redemption resonated.
It rumbled with rough lyrics and pounded with anthems crammed with cameos (Jay-Z, Beyonce to Elton John). (JS)
14 - The Roots How I Got Over
This hip-hop-soul cabaret and carried on the Roots' fine tradition of positive and powerful sentiment.
Most clever of all was the seamless blending of diverse guests, including everyone from folkie supergroup Monsters of Folk and whimsical weirdo Joanna Newsom to soul smoothie John Legend. (SK)
15 - Ariel Pink's Haunted Graffiti Before Today
Having spent 10 years experimenting with unheard lo-fi home recordings, the maverick Californian finally delivered an bizarre-but-great album to the wider world.
One of 60s nostalgia meets Halloween costume extravaganza meets spacey underground synths. (JS)
16 - Erykah Badu New Amerykah Part Two (Return of the Ankh)
The second part of Badu's New Amerykah series was a more soulful mood than 2008's volatile 4th World War.
The cooing sexy diva sung almost entirely about love, and the album breezed and bopped along with sing-a-longs but she showed her devilish side too with oddball jazz tunes and the Prince-fronting-Funkadelic touch of Love. (SK)
17 - Hollie Smith Humour and the Misfortune of Others
After a career rollercoaster in the wake of her local hit debut of 2007, soulstress Smith toughened up with a set of songs which were a quantum leap from that first set and made for a terrific, challenging album of angry, anguished anthems propelled with plenty of instrumental fire beneath her hell-hath-no-fury vocals. (RB)
18 - Arc of Ascent Circle of the Sun
Metal album of the year, which also happened to be one of the best local releases of 2010 from this monster Hamilton trio, complete with everything from sitar, chanting, and scything riffs.
Brain rattling songs like Godhead were stirring, psychedelic and transitory. (SK)
19 - Pantha Du Prince Black Noise
Nothing like a bit of lush and minimal German techno to shake up your personal playlist and no one did it better than the Pantha who combined tranquil and beautifully oscillating soundscapes, with beats which made for a moving experience for the mind, body and soul. (SK)
20 - Beach House Teen Dream
Not to be confused with the Katy Perry hit, Baltimore duo Victoria Legrand and Alex Scally reflected on a wonderfully imaginative intelligent adolescence.
A boy-girl collision in a world of warped serenades. (JS)
21 - LCD Soundsystem This Is Happening
If this really was James Murphy's final album as LCD Soundsystem then he went out with a bang.
The record's pumping dance tracks were disguised as lyrically verbose moody poetry and some of the year's biggest party starters were the thick electrorock of Dance Yrself Clean and cheeky irony of Drunk Girls. (JS)
22 - Dear Time's Waste Spells
Dear Time's Waste is Auckland's Claire Duncan and a few discreetly placed others on this engaging, sometimes spare indie folk/sometimes dense alt.rock debut which occasionally sounded like the new century's update of classic Flying Nun and at others sensitive Anglofolk through the Antipodean looking glass.
Cool, lyrically engrossing and utterly fascinating. (GR)
23 - Robert Scott Ends Run Together
Scott's been around so long he'd be the last Flying Nun artist you'd think could surprise, but ...
This diverse but coherent, thought-out collection moved effortlessly from mysterious, understated ballads to chiming quasi-ambient pop pieces and cannoning alt.rock.
Three decades on from the Clean's opening salvo, Scott delivered a beguiling, beautiful career highpoint. (GR)
24 - Ryan Bingham and the Dead Horses Junky Star
Bingham wrote The Weary Kind for Jeff Bridges' Oscar-winning film Crazy Heart.
That should alert you to his highway-battered, junk 'n' alcohol alt.country poetics which here looked at street-life America and suggested him as a younger, less idealistic Springsteen on a dark, brutally true, ride. (GR)
25 - Gorillaz Plastic Beach
It may not have had as many catchy hits as the virtual band's previous albums, but you have got to love an album that conjures up a fantastical world where moochy rapper Snoop Dogg, music's grumpy kings Lou Reed and Mark E. Smith, two guys from the Clash, the bloke from Blur, and four cheeky and rebellious cartoon characters can co-exist. (SK)
26 - Janelle Monae The ArchAndroid
Petite soul sister Monae followed up her 2007 breakout funk-pop hit Many Moons with one of the most varied pop albums of the year, an ultimate stage show collection of booty-shaking hip-hop, glittery-soul singers, hair-shaking rock 'n' roll and foot-tickling funk. (JS)
27 - Paul Weller Wake Up the Nation
Admittedly not quite the stone-cold winner its predecessor 22 Dreams was, this gets Weller here for its free-wheeling energy, psychedelic Britpop and an affecting mini-popera (Trees) at its midpoint.
It was really quite something. (GR)
28 - Caribou Swim
Canadian musician Dan Snaith went for some toe-tapping, dancefloor eccentricity on the follow-up to his stunningly psychedelic Andorra from 2007.
There was a playful, child-like whimsy to songs like Odessa, but with darker and more industrial outbursts elsewhere. (SK)
29 - Shihad Ignite
Thumping six-minute opening epic The Final Year of the Universe was Shihad's proclamation that they were back to their weighty and lurching best.
While it wasn't quite the hammer and tongs approach of their early years, the band's eighth album was testament to their perennial strengths. (SK)
30 - MGMT Congratulations
The New York dance-poppers's sophomore effort was one of the year's most intriguing releases.
No longer on the sugar high of their debut, they were at once angsty, haunting and warped. (JS)